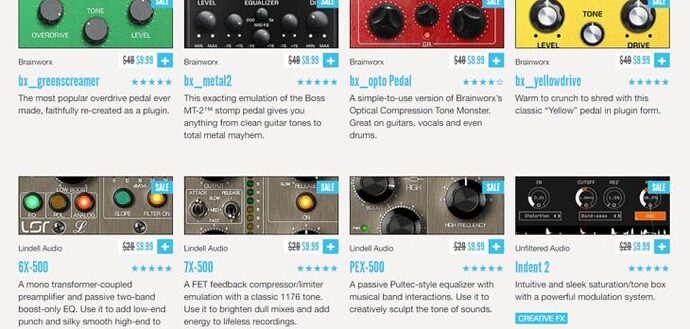 Plugin Alliance offers a $10 voucher for all customers during the MEGA Sale, which ends on October 2. You can use the voucher to get one of the cheaper plugins free of charge.
We covered similar offers from Plugin Alliance (now part of the Soundwide group) in the past, most recently in September 2021, when they offered a $20 coupon code. It's just a $10 voucher this time, but that's still enough virtual cash to get a cool plugin for free.
So, here's the complete list of plugins you can download for free with the $10 voucher:
bx_tuner ($7.99)
bx_blackdist2 ($9.99)
bx_bluechorus2 ($9.99)
bx_greenscreamer ($9.99)
bx_metal2 ($9.99)
bx_opto Pedal ($9.99)
bx_yellowdrive ($9.99)
6X-500 ($9.99)
7X-500 ($9.99)
PEX-500 ($9.99)
Indent 2 ($9.99)
Instant Delay ($9.99)
Sandman ($9.99)
To avoid confusion, you can only choose one of those fourteen plugins. The coupon code can be used only once.
If you have no idea which one to get, I suggest Sandman or Instant Delay. Both are incredibly powerful echo/delay plugins that will add a tremendous amount of versatility to your sound design toolbox.
However, if you're a guitar player, try one of the guitar pedals by brainworx. And if you're a fan of analog-style mixing tools, perhaps one of the Lindell Audio plugins would be the best choice.
To get a free plugin, register at Plugin Alliance or log in to your existing account, add one of the listed plugins to your shopping cart, and apply the MEGA-10-OFF coupon code to reduce the price to zero.
But you don't have to use the code to download a plugin for free. It will apply a $10 discount to any other order. So, if you're OK with spending some money on a great plugin, find the complete list of available software on the MEGA Sale page linked below.
And there's more good news. Plugin Alliance also offers a $25 voucher (MEGA-25-OFF), but it requires a $39 minimum spend, and the offer expires in less than 24 hours!
Before you leave, a word of advice: Plugin Alliance sometimes resets the vouchers, allowing users to use the same voucher twice. So, hurry up and use the voucher codes because you might have another chance to use them soon!
More info:
Plugin Alliance MEGA Sale (use the coupon MEGA-10-OFF to get a $10 discount)
---
↑↑↑ 上方链接直接到达 ↑↑↑
资讯出处:Get A FREE Plugin Worth $10 From Plugin Alliance - Bedroom Producers Blog