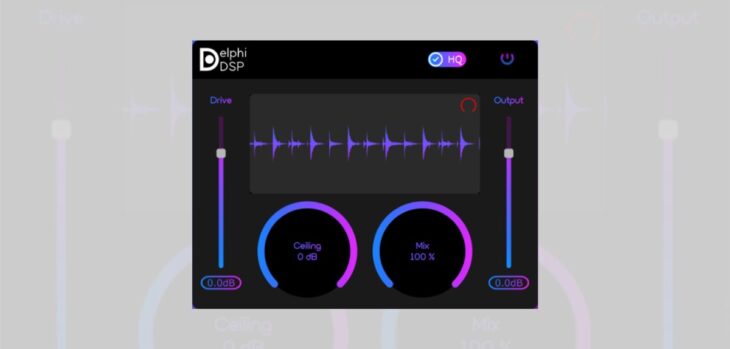 Delphi DSP offers Chop n' Dice Lite, a FREE hard clipper for Windows (macOS soon).
Chop n' Dice Lite is the streamlined version of the developer's debut release, Chop n' Dice.
As a Lite version, it doesn't come with a complete feature set and perhaps isn't the "most unique clipper plugin in the market," as Delphi DSP describes the flagship version.
But, it's a very straightforward plugin that does an important job, which makes it worth checking out.
Chop n' Dice Lite has one hard clip algorithm and just a few controls.
You have the Drive and Output sliders on either side of the GUI. Between those sliders are the Ceiling and Mix controls.
One of the cool things about the plugin is the waveform display that shows how the clipper is chopping the audio. You can even adjust the speed of the waveform display with the Waveform Scroll Speed control.
Lastly, you'll see the HQ switch at the top of the interface, which enables 4x oversampling.
Chop n' Dice Lite is currently available in the VST3 format for Windows and compatible with the following DAWs: FL Studio, Ableton Live, Studio One, and Reaper.
However, the developer is already working on a VST3 and AU release for macOS.
Here's a note from the developer for BPB readers:
"Thank you for your interest in Chop n' Dice Lite! You might have noticed that our plugins are not available for macOS and in AAX format for Windows. This is because we currently don't have access to a mac computer. And we are in contact with Avid to acquire their developer license for distributing the AAX plugin. As soon as we get these matters sorted out, we will release our plugins in other formats on Windows and for macOS as well."
A clipper might not be the most exciting plugin for creative minds, but it's an important one to understand.
Clipping can provide a way to manipulate aspects of your mix that might be troublesome further along the chain.
Chop n' Dice Lite is a hard clipper, but clipping doesn't have to be overly aggressive.
We have a few options when it comes to free clipper plugins. Over the past year or so, we've seen freebies like Fire by Wings, Initial Clipper by Initial Audio, and BT Clipper by Viator DSP.
Classic Clipper from IK Multimedia is another that sometimes pops up as a limited-time freebie.
Mac-users, remember to keep an eye out for the macOS release if you're interested in Chop n' Dice Lite.
Download:
More:
---
↑↑↑ 上方链接直接到达 ↑↑↑
资讯出处:Chop n' Dice Lite Is A FREE Hard Clipper Plugin By Delphi DSP - Bedroom Producers Blog