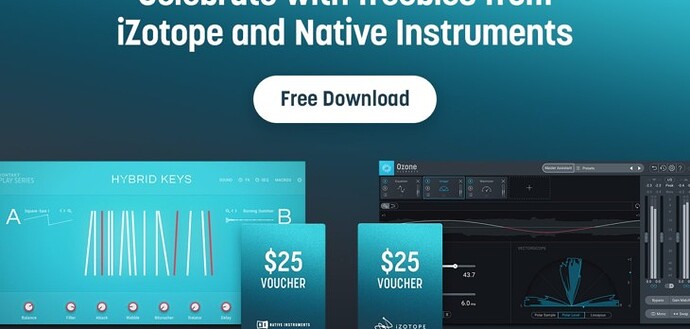 Native Instruments and iZotope joined forces back in March 2021. To celebrate their partnership, the two companies offer Hybrid Keys by Native Instruments and Ozone Elements by iZotope for free.
In addition to the free software, all interested users will also receive a $25 voucher for both online shops. Read more about the offer below.
Hybrid Keys ($49) is a virtual instrument developed by Native Instruments. It covers a range of tonal percussive sounds, from bells and mallets to pianos and synth sounds. The plugin sports a simple user interface, allowing for easy sound manipulation and quick access to a wide variety of presets.
Ozone Elements ($129) is the basic edition of iZotope's mastering software. It uses the iZotope Master Assistant technology to detect any problem areas in the mix. The user can then customize the suggested EQ and limiter settings for the final master.
To get a $25 discount on your next iZotope or Native Instruments purchase, redeem the coupon code iZotopeNI2021 in your shopping cart. The code is valid for a single-use in both online shops.
But that's not all!
Another offer worth checking out is the iZotope Community Appreciation Bundle.
Get $1,659 worth of audio mastering and mixing tools for $49 in a single bundle. The collection includes iZotope's best-selling plugins like Ozone Elements, RX Elements, Nectar Elements, Neutron Elements, Stutter Edit 2, Trash 2, BreakTweaker Expanded, Iris 2, Phoenix Verb, R2, and Excalibur.
Here's the official announcement from iZotope and Native Instruments:
"Native Instruments has joined forces with iZotope—and to make it official, we're teaming up to bring everyone iZotope Ozone Elements and Native Instruments HYBRID KEYS for free! Celebrate with us by grabbing your free copy of each below, plus get a $25 voucher for both online shops."
To claim your free software visit the announcement page linked below. You will need to register a user account at Native Instruments and iZotope in order to download and activate the software.
More info:
Ozone Elements X Hybrid Keys (the offer ends on May 31st, 2021)
---
↑↑↑ 上方链接直接到达 ↑↑↑
资讯出处:Get NI Hybrid Keys & iZotope Ozone Elements For FREE! - Bedroom Producers Blog