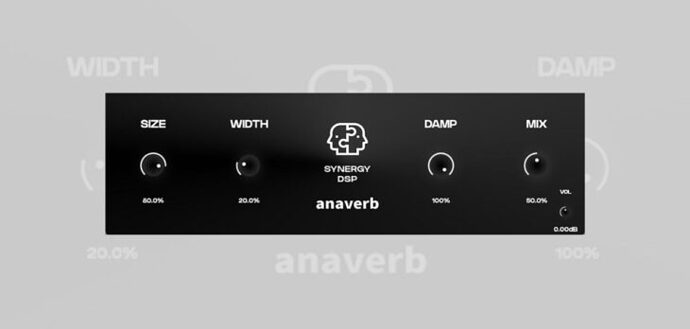 Synergy DSP released a beta version of Anaverb, a forthcoming freeware reverb effect for Windows and macOS.
Synergy DSP is a new developer in the process of launching its debut plugin, Anaverb. The developer is currently looking for enthusiastic beta testers to provide important honest feedback and suggestions and enjoy using Anaverb.
Anaverb is a free reverb plugin for macOS and Windows. We can confirm that the official release will remain a free VST, which is great news.
The plugin has an extremely clean-looking GUI with four main controls. Although you can't base too much on appearance, it does look great; I love the minimalist/sleek styling.
The four main controls are Size, Width, Damp, and Mix. There's a smaller volume knob at the bottom right corner of the interface.
At this stage, there isn't too much to say about Anaverb other than try it out if you can and help the developers identify any issues. Or, try it out and tell them it's awesome if that's how you feel.
The small team behind Synergy DSP seems like creative, motivated individuals with a strong passion for music. As music-makers themselves, the idea is to create audio tools from the musicians'/engineers perspective.
If you've been on the lookout for a free reverb, one of the last we featured is RO-GOLD by Black Rooster Audio. It's an emulation of the EMT 140 vintage plate reverb for macOS and Windows. Black Rooster Audio often has great deals on bundles.
Talking of great deals, if you're looking to buy a reverb plugin, make sure you try Plugin Boutique and ADSR Sounds, which both have free gifts available with every purchase this month.
It's Lifeline Expanse Lite at Plugin Boutique and Darksichord 3 at ADSR Sounds.
You can now download the beta version of Anaverb in AU and VST3 formats for macOS and Windows from the Synergy DSP website.
Anaverb will remain freeware after the beta phase has finished (the developer confirmed this to BPB).
Download:
Anaverb (beta)
More:
---
↑↑↑ 上方链接直接到达 ↑↑↑
资讯出处:Synergy DSP Releases FREE Anaverb Reverb Plugin (BETA) - Bedroom Producers Blog