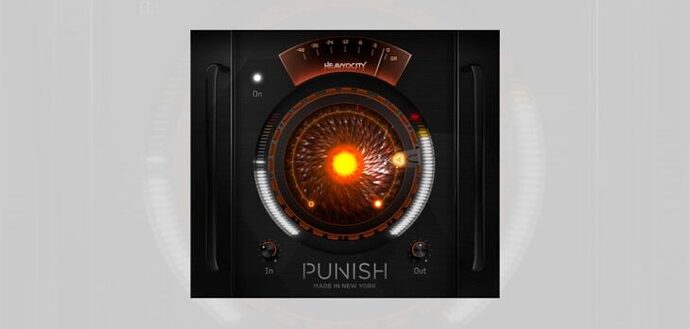 Loopcloud offers the PUNISH Lite ($49 value) saturation plugin by Heavyocity as a FREE download for a limited time. Sign up for any Loopcloud subscription plan (or the free trial) to get the deal.
Learn more about PUNISH Lite and Loopcloud below, and scroll down to get your free copy of the plugin.
Heavyocity PUNISH Lite
The full version of Heavyocity's PUNISH is a saturation, compression, and distortion plugin. With three types of saturation, including valve and classic preamp overload emulations, PUNISH can create various distortion effects – from a warm tape fuzz to full-blown industrial noise.
The tube saturation algorithm can create prominent harmonics, something producers can use to give more presence to the sound source in a full mix.
Heavyocity's PUNISH Lite is a reduced version of PUNISH. While removing compression and other finer-tuning elements, the Lite version of PUNISH retains nearly all of the saturation and distortion capabilities.
It may be a 'Lite' version, but it retains all the best features while more than halving the cost. PUNISH Lite is still an excellent saturation plugin that you could use to give subtle grit to overly clean sounds or to completely distort and saturate a sound until it is nothing more than noise and grizzled.
What is Loopcloud?
Loopcloud is a subscription-based sample library platform that claims to be the largest and most diverse in the world, with over 4 million royalty-free sounds available to subscribers.
More importantly, Loopcloud has developed 'AI-powered harmonic and rhythmic sound matching' to save time looking through the sample library and keep you in your creative flow. Loopcloud will analyze the harmony and rhythm used in your track and recommend suitable loops ready to slot in.
The platform offers extensive editing tools to make your loops unique to your track. Loops can be edited and processed with an array of effects before being downloaded – this way, you can experiment with creating the ideal loop within Loopcloud and then export it into your DAW.
Loopcloud also comes with separate plugins for building punchy kits. Functional and easy to use, these additional plugins set Loopcloud apart from rival sample library providers.
Monthly subscriptions start from £5.99 / €6.99 / $7.99. All monthly plans come with a free trial.
Loopcloud X Heavyocity
Head over to Loopcloud to find more information on their subscription plans. Sign up for any plan (or get the free trial), and you'll receive Heavyocity's PUNISH Lite for free.
For users already subscribed to Loopcloud, you can still download Heavyocity PUNISH Lite via your account on the Loopcloud site.
The offer ends on November 6th.
Get the deal: Loopcloud (available with Loopcloud free trial until November 6th, 2022)
---
↑↑↑ 上方链接直接到达 ↑↑↑
资讯出处:Heavyocity PUNISH Lite Is FREE When You Try Loopcloud - Bedroom Producers Blog