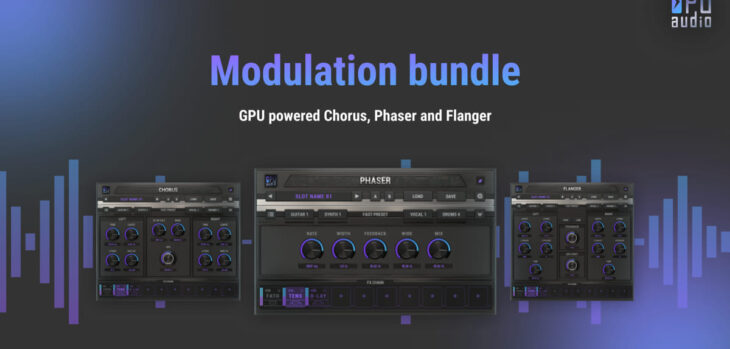 GPU Audio have just announced the first installment of their highly anticipated beta-suite, with a free Modulation Bundle of plugins – all powered by your computer's GPU.
The first installment of GPU Audio's free Modulation Bundle plugin collection is out now, with SDK, AAX, and Apple Support coming soon.
This release forms the start of a collection of classic effects made up of a series of low latency production effects, including spatial audio processors, frequency correction units (EQ, filter, exciter), distortions, dynamics (compressor, limiter, gate) as well as many other production essentials, which will be rolled out incrementally.
The Modulation Bundle features a Chorus, a Flanger, and a Phaser, each with a host of parameters to explore, taking their patented technology a stage further than the impressive early-access Convolution Reverb plugin, which they released earlier this year. Look out for more in the beta suite coming soon; there will be more before the end of the year!
In the coming weeks, they'll be rolling out their hugely anticipated macOS support, having been working closely with Apple for months, adding to their roster of high-profile affiliations – AAX for AVID Protools is also coming soon!
They've now forged official partnerships with AMD and NVIDIA – the latter of which recently hosted inundated GPU Audio workshops at their Deep Learning Institute. The focus of these workshops is for developers to get their hands on GPU Audio's groundbreaking software in readiness for an upcoming SDK release.
The new SDK release will put the power of GPU Audio in the hands of the finest audio developers in the world to design and create the next generation of plugins. Similar 'Tutorial Labs' at ADC in London will be hosted in November this year with limited spaces. Sign up for them here.
GPU Audio is keen to point out that the Modulation Bundle will be incrementally updated with new features added as they go – so look out for updates, improvements, and refinements in the near future. If you have any feedback or issues with the plugins, you can join their Discord channel to report your findings directly to the GPU team.
If you haven't tried their free FIR Convolution Reverb, you can download all of their plugins now from the GPU Audio website.
Catch the GPU Audio team in the real world – they'll be speaking at ADC in London, AES in New York, and will be at Adobe Max in LA! But for now, get your hands on the Modulation Bundle and try out these revolutionary plugins for yourself.
Download:
More:
---
↑↑↑ 上方链接直接到达 ↑↑↑
资讯出处:GPU Audio Releases FREE Modulation Bundle Beta Suite - Bedroom Producers Blog