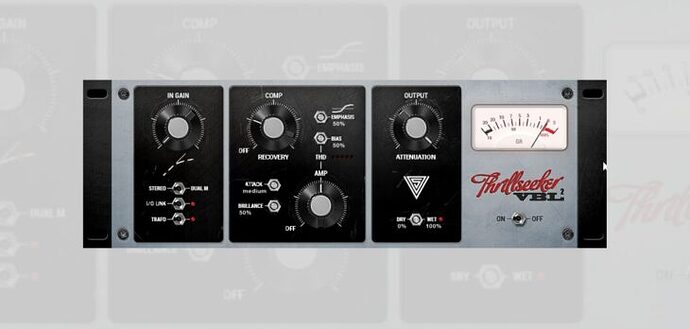 Variety of Sound has released an update to ThrillseekerVBL mkII, a popular freeware "vintage broadcast limiter" plugin.
ThrillseekerVBL has been around for a long time. Seasoned BPB readers will remember that it was selected as the best freeware plugin of 2013 on our website.
![ThrillseekerVBL was BPB's pick for the best freeware of 2013.](data:image/svg+xml,%3Csvg%20xmlns='http://www.w3.org/2000/svg'%20viewBox='0%200%20798%20556'%3E%3C/svg%3E)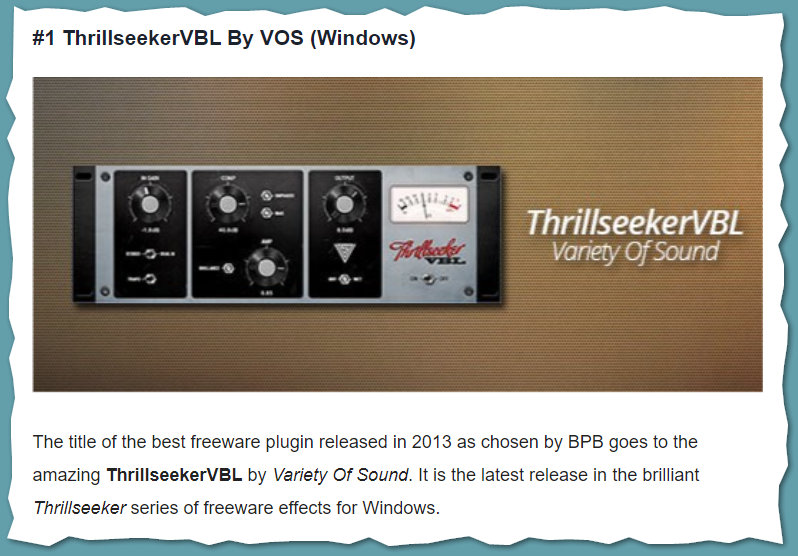 Those were the days!
But time flies fast, and Variety of Sound's plugins were losing traction due to only being compatible with 32-bit plugin hosts. Thankfully, the developer released 64-bit updates to their freeware plugins, including Ferric TDS mkII and TesslaPRO mkIII. This latest update continues the trend.
For anyone who isn't already familiar with the plugin, here's a little recap on the original ThrillseekerVBL.
It emulates a vintage 1950s broadcast limiter with the classic Variable-Mu design. There are many plugin emulations of Variable-Mu compressors/limiters, and we can attribute the number of emulations to the desire to capture that iconic smooth/creamy sound.
Some plugin emulations try to capture the sound of the Fairchild 660/670 (loved by The Beatles) or the Manley Vari MU.
ThrillseekerVBL was popular, in part, because it did such an accurate job of audio transformer simulation. The plugin managed to recreate many of the subtleties that some others miss, providing some authentic analog magic in the digital world.
ThrillseekerVBL MkII promises to be a more refined version of the original. Rather than focusing on peak limiting, MkII will focus on realistic/musical gain control and authentic saturation.
Saturation and compression can be independently activated and controlled.
Circuit-related frequency loss in the highs is a problem that the original plugin suffered. But, it seems that not all users took issue with it; many liked it and attributed it to the limiter's unique sound. Whether you loved or hated it, that frequency loss has been addressed in this update and should be virtually non-existent.
ThrillseekerVBL was already a reliable saturation box, providing a range of analog-style tones and textures.
As well as addressing prior issues and enhancing the overall sound, ThrillseekerVBL MkII features some user-experience upgrades like additional visual feedback and significantly reduced CPU load.
Another popular Vari-MU plugin is Royal Compressor from UnitedPlugins, which you can download as a free trial that turns to a streamlined free version once the trial expires.
ThrillseekerVBL MkII is available for Windows in 32/64-bit VST plugin format.
Download:
More:
---
↑↑↑ 上方链接直接到达 ↑↑↑
资讯出处:Variety Of Sound Releases FREE ThrillseekerVBL mkII Plugin - Bedroom Producers Blog