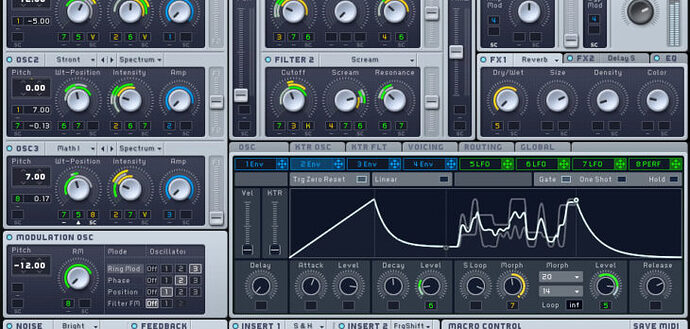 Focusrite offers NI Massive, iZotope Ozone Elements, and a 3-month NI Komplete Now subscription for free to members of their Plug-In Collective.
Focusrite's Plug-In Collective members are offered access to a couple amazing freebies this month. We typically don't write about Plug-In Collective deals on BPB because they're only limited to Focusrite customers, but we received so many emails about this one (thank you for thinking of BPB!) that we gave in.
So, anyone who has purchased a piece of Focusrite hardware and joined the Plug-In Collective is eligible to download Massive, a legendary synth plugin and bass machine from Native Instruments, and Ozone Elements, a mastering tool, from iZotope. These plugins are typically sold for $149.00 and $129.99, respectively.
Also on offer is a 3-month membership to KOMPLETE NOW, a subscription-based software and soundware bundle from Native Instruments. These deals last from 6th October to 12th January 2023.
Native Instruments Massive
Dynamic in range and tone, MASSIVE has everything you need to create compelling lead lines, atmospheric and cinematic pads, and devastatingly heavy bass lines. This well-developed synthesis engine delivers quality sound and a range of controls to make creating and editing easy for both beginner and novice players.
MASSIVE comes with a huge library of presets totaling 1,300 (and with countless free and paid expansion packs available online). The sounds are diverse and unique, inspired by a whole host of genres. Whilst not all of the presets will be to your taste, each has potential and is flexible when it comes to editing.
MASSIVE's sound synthesis is based on Native Instrument's Wave Scanning algorithm and is fitted with 85 specially designed wavetables, each with its own unique characteristic. Even the most established sonic sculptor will have hours of fun with this synth's range of editing, with layers of parameters to get lost in. It's stuffed full of extra features, effects, and interesting routes for modulation.
iZotope Ozone Elements
Izotope's OZONE ELEMENTS is a mastering tool designed to make finishing off a track effortless. Already loaded with 'radio' and 'streaming' options, the plugin is easy to navigate and has all the tools you need to create your final master.
There is even an AI-based 'Master Assistant' who will listen to your track and make suggestions to your mix, whether it's in loudness, balancing, or tone. This is a great option for smaller artists who can't afford to pay mastering costs.
Native Instruments KOMPLETE NOW
Focusrite also offers a 3 month's free subscription to KOMPLETE NOW, normally billed at £8.99 a month.
KOMPLETE NOW is a bundle of Native Instrument's most sought-after production tools, including software instruments, effects, mix, and mastering plugins.
Focusrite's Plug-In Collective
Anyone who has bought a piece of Focusrite's hardware is eligible to register to their Plug-In collective account and download a host of great music-making software. From free DAWs to complete sample libraries, mixing and mastering tools, to free trials to services like KOMPLETE NOW.
Find out more on how to log in and download, or read more about Focusrite's Plug-In Collective.
Get the deal: Focusrite Plug-In Collective (requires a Focusrite Plug-In Collective account)
More:
---
↑↑↑ 上方链接直接到达 ↑↑↑
资讯出处:Focusrite Plug-In Collective Offers FREE NI Massive, Ozone Elements, Komplete Now - Bedroom Producers Blog