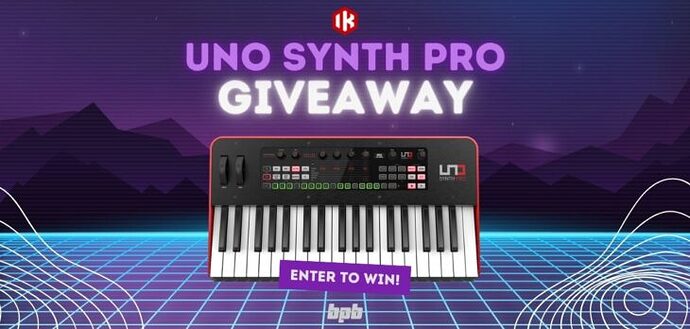 IK Multimedia is giving away the UNO Synth Pro (€699.99) paraphonic analog synthesizer for FREE to one lucky BPB reader! Read more about the synthesizer below and enter our giveaway to become the lucky owner of a UNO Synth Pro.
Despite its compact size, UNO Synth Pro's sound engine rivals the top-end synthesizers for a fraction of the price. Fuzzy, dubby with fizzling square waves galore – this synthesizer is primed for producing contemporary electronic, hip-hop, industrial, and synthwave music.
UNO Synth Pro is typically priced at €699.99, but IK Multimedia currently offers it for €499.99 (excl. VAT). In fact, the entire UNO product range is now on sale. You can save up to €200 on a UNO product at IK Multimedia.
Here's the complete list of discounted UNO products:
UNO Synth Pro – $/€699.99 $/€499.99
UNO Synth Pro Desktop – $/€399.99 $/€269.99
UNO Synth Pro Black $/€399.99 $/€269.99
UNO Synth – $/€229.99 $/€149.99
UNO Drum – $/€269.99 $/€199.99
The sale ends on October 31st, 2022.
That's an epic discount, but we have even better news. One lucky BPB reader will get the UNO Synth Pro for free!
UNO Synth Pro – Synthesis Engine
UNO Synth Pro uses three analog oscillators, which can be used both in unison and polyphonically (each oscillator can play a different note in a 3-note chord).
Each oscillator has access to four filters: two-pole, high-pass, low-pass, and an SSI filter. These filters have – 24 – different modes, enough to keep even the most in-depth synth technician experimenting for days.
The low-pass filter is particularly resonant and can be used to create a heavy, aggressive sound – perfect for industrial tracks or modern bass-heavy electronic music. There is no doubt that IK Multimedia has designed this synth with contemporary music in mind, setting it apart from classic analog synths, which have become associated with retro sounds.
You have the option to animate the internal parameters using PWM, FM, and ring modulation, as well as ADSR envelopes and a range of effects. There are twelve digital effects, including reverb, delay, phasers, flangers, and a genuine analog overdrive.
These effects can be applied simultaneously, with up to three effects being used at any time. This is undoubtedly one of the synth's best features and sets it apart from many other analog synthesizers.
UNO Synth Pro – Presets
There are 256 presets loaded into the UNO Synth Pro. There is a good range here, from floaty, soft pads to huge, grating lead lines. The softer presets are clear and crisp – even the reverb-heavy cinematic pads are well-balanced and practically mix-ready.
There are enough presets to keep beginner synth players happy, but there are also well-integrated features for synth novices to alter and build their own patches.
UNO Synth Pro – Keyboard Features
The UNO Synth Pro makes for a great tabletop synth. It's far lighter than other analog synths of the same size, and with a keyboard spanning three octaves, there is enough room to express your musical ideas without becoming restricted.
The keys are semi-weighted and feature aftertouch – this is excellent news for piano players looking to buy their first synth who'd find more expression in weighted keys.
The same synth can be bought as a 'desktop' version with a capacitive keyboard. However, while the desktop version is around €200 cheaper, the weightless, flat capacitive keyboards can be tricky to play for some. The UNO Synth Pro will be much more familiar for established keyboard players and easier to get to grips with.
More info:
UNO Synth Pro / UNO for ALL Sale
The Giveaway
IK Multimedia provided a FREE UNO Synth Pro for one lucky BPB reader! A big THANK YOU to IK Multimedia for sponsoring this giveaway!
To enter the giveaway, enter your email address in the form below. You can increase your chances of winning by completing the bonus tasks.
We will randomly pick the winner on October 31st, 2022.
Good luck, and thanks for reading BPB!
---
↑↑↑ 上方链接直接到达 ↑↑↑
资讯出处:BPB Giveaway: Win A FREE IK Multimedia UNO Synth Pro - Bedroom Producers Blog