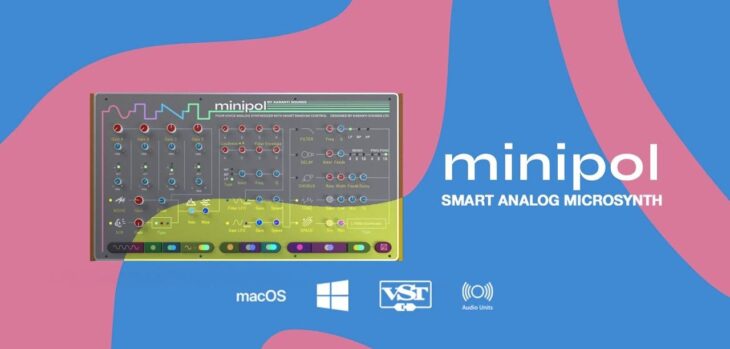 VST Buzz announces a 70% discount on the MINIPOL by Karanyi Sounds – a powerful software synthesizer based on classic analog models, updated with smart AI features.
MINIPOL by Karanyi Sounds is a versatile synth that can reproduce classic analog sounds – from Juno-inspired, chorus-soaked chords to chunky 80s basses, early Detroit house-inspired stabs, and cinematic soundscapes.
Although this MINIPOL lacks the grit of those classic analog models, the recreated sounds are good quality, and this would be a great entry point for beginners in synthesis. The layout is intuitive and easy to use with a clean-looking user interface, whilst the randomization capabilities are a quick way to find unique sounds to inspire your creativity.
The MINIPOL has six oscillators – four can be independently controlled with knobs for gain control, fine-tuning, and panning, as well as switches that can send each voice up or down an octave. The two additional oscillators are used to add noise and sub-frequencies, with three types of sub-sounds available.
The combination of voices is then fed into a sequence of modulation, with two ADSR envelopes available, as well as adjustable HP, BP, and LP filters, and two LFOs – one gain LFO and one filter LFO. Both have sync capacities, ideal for producers wanting to keep filters in time with the rest of their track.
After you have toyed with modulation, the synth can then be fed through 5 effects chains, each independently controlled. As well as reverb, another filter, and chorus, the delay is perhaps the most interesting of the effects, with an adjustable 'ping pong' feature to create interesting stereo effects. The synth would benefit from a good saturation plug-in.
One of MINIPOL's most interesting features is the ability to randomize values.
Although not immediately obvious, the toolbar decorated with colorful shapes at the bottom of the synthesizer triggers randomization. They are divided up into values, randomizing voice controls, modulation controls, and effects controls.
Randomization is a great way to quickly generate new sounds. The ability to randomize individual sections is handy if you have found a voicing/effects chain you want to keep.
MINIPOL's randomization features are what makes this synth unique from its competitors, although it does deliver on its promise of recreating some classic analog synth sounds. The sounds are very clean, but with a little saturation and tape wobble, this synth will come pretty close to those classic analog models of the 70s and 80s.
You can purchase the MINIPOL with a 70% price reduction until October 23rd, 2022.
Get the deal: MINIPOL (70% OFF until October 23rd, 2022)
More:
---
↑↑↑ 上方链接直接到达 ↑↑↑
资讯出处:Get 70% OFF Karanyi Sounds MINIPOL Synthesizer @ VSTBuzz - Bedroom Producers Blog