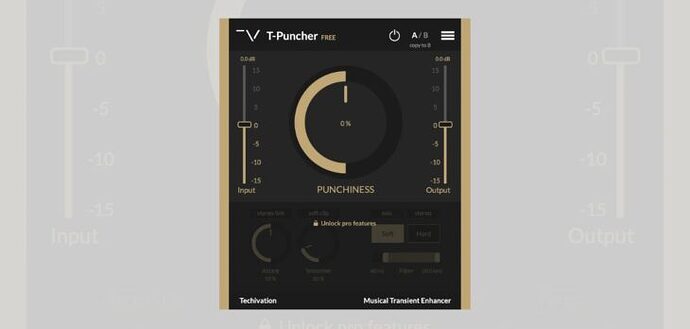 Techivation releases T-Puncher FREE, a freeware version of its premium T-Puncher ($79) transient shaper plugin for Windows and macOS.
T-Puncher FREE is a simple plugin that effectively shapes transients to make the processed audio more punchy and snappy.
The design couldn't be any simpler – with only a single knob to boost or reduce transients. T-Puncher FREE is effective, functional, and easy to use. Turning the knob to the right boosts transients from 0 to 100%, making the sound source 'punchier.' Turning the knob to the left reduces transients, this time from 0 to – 100%, softening the sound.
Techivaiton's premium version of T-Puncher has additional features, including presets, attack and 'smoothing' controls, 'soft' or 'hard' settings, as well as a filter. Whilst these options give you more control, the free version is still a great free transient shaper.
More importantly, for users new to shaping transients, the free T-PUNCHER has everything you need to get started without causing confusion with unnecessary controls.
But what are transients, and why do they matter in your mix?
Transients are the short burst of energy at the beginning of a sound. The most common example of a transient is the 'crack' of a snare drum or the 'snap' of a kick drum when the foot pedal first hits the drumhead.
Many mixing engineers will first look at adjusting transients in a mix. If a song is lacking energy, or if a drum take is becoming lost in the mix, then an engineer may boost the transients of the drums to make them 'pop.' Instead of boosting the whole sound, boosting the transient will adjust only the very beginning of the sound, resulting in this 'pop' or 'punch.'
Alternatively, softer tracks may need to have transients reduced in order to match the energy of the other instruments. For aspiring producers, understanding how to shape transients is essential to delivering a polished, industry-level mix.
There are other transient-shaping plugins available for free, with more control than the free version of the T-PUNCHER. This includes Crack, which incorporates attack and sustain controls, as well as a dry/wet knob. Kilohearts Transient Shaper is another great free option.
T-Puncher Free is available in VST, VST3, AU, and AAX plugin formats for Windows and macOS.
Download:
More:
---
↑↑↑ 上方链接直接到达 ↑↑↑
资讯出处:Techivation Releases T-Puncher FREE Transient Shaper Plugin - Bedroom Producers Blog