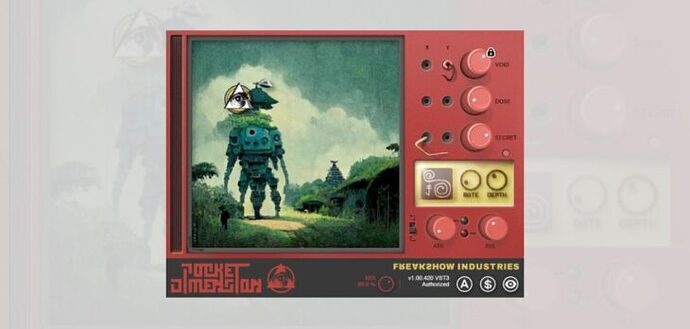 Freakshow Industries releases Pocket Dimension, a crazy sound design tool that costs $30 (but you can also get it for free).
Freakshow Industries has released the latest, and possibly craziest, addition to its plugin collection. Pocket Dimension – The Time Hole is either a window to another dimension or a cool plugin that mangles your sound in various ways (or both); it's hard to say.
It doesn't take long to figure out that Freakshow Industries has an apocalyptic theme going on with its website and products. Despite the dystopian atmosphere and doomsday imagery, it seems the team at Freakshow Industries is a thoughtful bunch because they think about potential customers who might be low on spare cash.
Pocket Dimension sells for $30 and has an underpay option where you can buy it for $20, $15, or $10.
If you can't stretch to any of those options, there's a third way to obtain the plugin; you can steal it.
The developers explain the Steal option as an ongoing social experiment with a few conditions.
One of the conditions is that you must tell them why you decided to turn to a life of crime (it's free, but they will shame you!). You can tell them that money is tight, you think software should be free, or choose a more unapologetic response that I'll not share until you see it yourselves.
If you can handle the shaming and the thought of stealing from these lovely but possibly vengeful and chaos-loving people, you get the plugin for free.
Stolen licenses are fully functioning but not eligible for an upgrade.
Pocket Dimension has a pretty freaky GUI. It features a large X/Y pad that displays a fast-changing slideshow of strange apocalyptic images. The cursor for the X/Y pad is a flying saucer and an Eye of Providence-like symbol that could have any conspiracy-theorist wondering if it's wise to steal this plugin.
As you click and drag the cursor around the pad, the image pauses as you seemingly hover around that parallel universe that has an other-worldly effect on your sound. In less scary terms, it creates crazy pitch-shifting, rhythmic, and percussive sounds that are ideal for breakdowns and transitions.
To the left of the X/Y pad are some controls (Void, Dose, Secret) that you can patch to X or Y movement. Below those, you've got Rate, Depth, Attack, and Release.
I think Pocket Dimension is one you have to try because it's easy to assume plugins with quirky GUIs are novelties, but it creates some very cool effects. I imagine it would be especially handy for any kind of electronic music production or for creating gloomy, dystopian soundscapes.
Another recent freebie that creates some crazy effects, albeit in a tamer fashion, is Dual Delay from Kilohearts.
Pocket Dimension is available in 64-bit AU, VST, VST3, and AAX formats for macOS (10.11 upwards) and Windows (10 upwards).
Download:
Pocket Dimension ($30 list price, pay what you want)
More:
---
↑↑↑ 上方链接直接到达 ↑↑↑
资讯出处:Pocket Dimension Is A $30 Freakshow Industries Plugin You Can STEAL - Bedroom Producers Blog