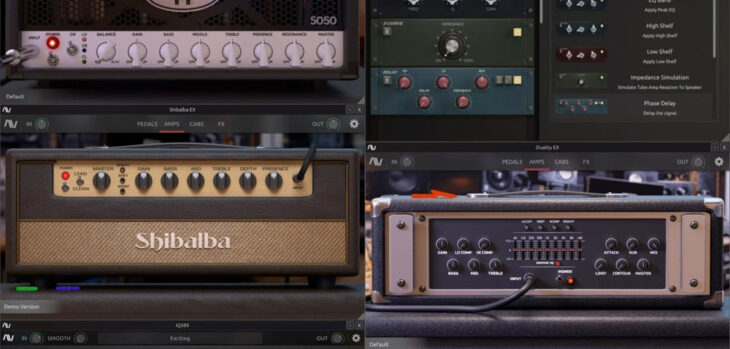 VST Buzz announces an 85% discount on the Guitar Amp Plugin Bundle by Audio Assault until November 8th, 2022.
Guitar Amp Plugin Bundle includes three amp simulators (AHM 5050, Shibalba, and Duality Bass Studio), an EQ (IQ 505), and the aIR Impulse Rack, which is an IR "mixing and creation toolbox."
Designed with hard rock, metal, and blues in mind, this bundle is great for guitarists looking to replicate some classic guitar tones. Although players in any genre will find useful tools here. The 85% discount is available until the 8th of November. You can try out demo versions of each product in the bundle before making a purchase.
These included guitar amp simulators are suited for heavy metal and hard rock players looking for some serious crunch. Both the AHM 5050 and Shibala cabs are decorated with the usual knobs to tweak the sound, including separate bass, mid and treble controls for quick EQing, as well as controls for master volume, gain, balance, and presence.
There is a handy resonance control for players wanting to dial into a particularly nasty tone or to reduce harsh and metallic frequencies.
The Duality Bass Studio has better tone controls, including sub-options, contouring, lo cut, and scooping capabilities, as well as a compressor and a limiter. These would be handy to include in the AHM 5050 and Shibalba simulators.
Whilst these amps work best with heavier tones, they can deliver some clean tones that sound great when paired with the reverbs and delays included with the plugin. The Shibalba simulates the Bogner Shiva, a boutique amp known for its woody tones, and is well suited to blues and classic rock.
There is a large number of presets to play with here, ideal for players wanting to find sounds quickly. The layout is clear and easy to use.
Three pedals are included: a gate to reduce signal noise, a booster, and a drive pedal to give your sound an aggressive edge. The bundle also includes three effects: a chorus, a delay, a reverb, and a 9-band EQ.
The IQ 505 is a simple but effective EQ. Separated into five bands, the controls here are easy to use whilst also being delicate enough to craft definite EQ curves and hone in on unwanted frequencies. The filter is a great addition.
The aIR Impulse Rack can store, mix, edit and blend IRs, both from Assault's range and third parties. Guitarists who've purchased IRs from other retailers will want to use this feature to mix their previous sounds with their new purchases. The aIR Impulse Rack is again easy to use and comes with many mixing capabilities.
All in all, this bundle is enough for any guitarist to get a quality sound, and the Impulse Rack is a handy tool for storing these sounds, whether they are built from Assault's IRs or other retailers. The 85% discount is available until the 8th of November.
Get the deal: Guitar Amp Plugin Bundle (85% OFF until November 8th, 2022)
---
↑↑↑ 上方链接直接到达 ↑↑↑
资讯出处:Get 85% OFF Guitar Amp Plugin Bundle By Audio Assault - Bedroom Producers Blog