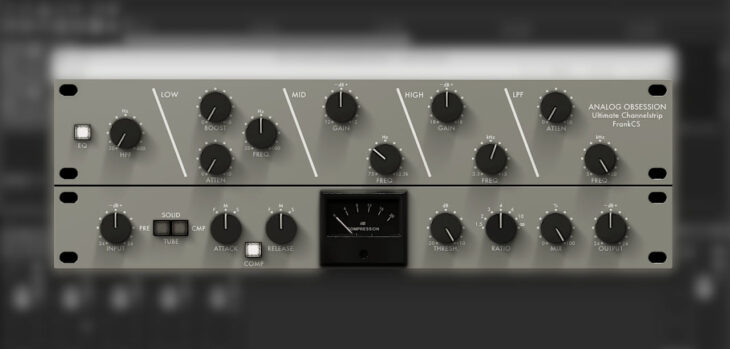 Analog Obsession releases FrankCS, a channel strip VST plugin for macOS and Windows.
When I say it's a channel strip plugin, it's more like four classic EQs in one plugin. If that sounds familiar, it's because FrankCS is the big brother of FRANK, an EQ plugin that had Analog Obsession bringing together the best frequencies from four vintage EQ modules.
The vintage EQ modules in question come from Helios, Pultec, API, and Neve. If you've used FRANK or even seen it, you'll notice that FrankCS has a more unified image than its little brother.
While the concept behind FRANK was interesting, and the finished article was very well put together, the fact that you couldn't select frequencies left the door open for a follow-up release.
And here we are! Analog Obsession calls FrankCS the "ultimate analog equalizer," and it might be, but it's definitely the ultimate FRANK because now you can select frequencies.
Here's what FrankCS looks like in numbers:
H-Type Low Cut – 20Hz to 800Hz – Variable
P-Type Boost/Attenuate – 20Hz to 100Hz – Variable
A-Type – Mid Band – 75Hz to 12.5kHz – Variable
N-Type – High Shelf – 3kHz to 15kHz – Variable
P-Type – High Attenuate – 5kHz to 20kHz – Variable
It also features two selectable Preamps with compensated gain (Solid-State and Tube) and a Compressor with two custom detection circuits (Solid-State and Tube). The Compressor Ratio ranges between 1.5, 2, 3, 4, 6, 10, and Limit.
The plugin has independent bypass buttons for the EQ and Compressor, and there's no global bypass.
Oversampling is engaged via the Analog Obsession label.
If you liked FRANK or didn't get a chance to try it yet, you should give FrankCS a go. Or, even if you've never tried any Analog Obsession plugins, you should give it a go (and check out the rest).
While downloading free EQs, don't forget Voxengo's TEQ-421, which we covered in September.
FrankCS is available in AU, VST, and VST3 formats for macOS (10.9 0 12.X) and Windows (7,8,10,11).
Download:
FrankCS
More:
---
↑↑↑ 上方链接直接到达 ↑↑↑
资讯出处:FrankCS Is A FREE Channel Strip VST Plugin By Analog Obsession - Bedroom Producers Blog