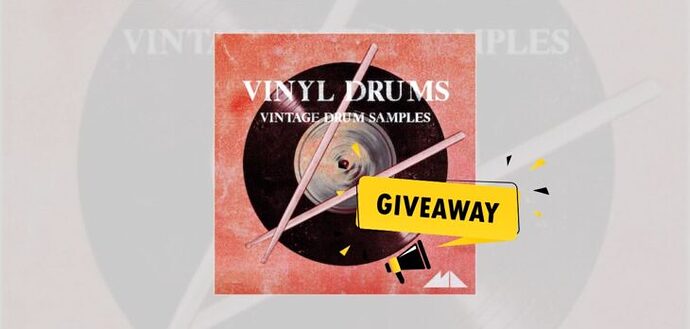 ModeAudio releases Vinyl Drums – Vintage Drum Sample (€18.40), a sample pack for retro grooves. Read more about Vinyl Drums below and enter our giveaway for a chance to win a FREE copy of the pack.
Vinyl Drums is a collection of 357 royalty-free vintage drum samples ready to add authentic retro character to your tracks.
There's something magical about the unmistakable crackle of vinyl that we often try to capture in the digital world. Whether through plugins like iZotope's Vinyl or sample packs like Vinyl Drums, we seem to love that warm vintage sound.
When I hear that dusty crackle, it's instant nostalgia. It reminds me of when I was obsessed with early Jazz recordings (not that I own any originals) and makes me think of my favorite Hip Hop producers' crate-digging for hidden gems.
Vinyl Drums delivers all that analog warmth and nostalgia in its production-ready samples.
The collection includes 70 kicks, 65 Hi-Hats, 60 Snares, 30 Claps, 30 Cymbals, and more. You'll also get a range of percussion samples featuring Shakers, Toms, and Congas.
As well as the expected drum samples, the pack comes with four Vinyl Crackle Loops, ten MIDI Loops, thirteen ready-to-play Drum Kit Sampler Patches, and four Channel Strip Settings.
We've looked at several sample packs from ModeAudio over the past year or so, from Hip Hop to Synthwave, and they always do what they're supposed to do. This latest addition is no different; it's gritty at times, crunchy, warm, nostalgic, and most importantly, it grooves hard when you add it all together.
Obviously, vintage Hip Hop, Funk, and soulful classics come to mind, but ModeAudio Vinyl Drums is an excellent way to add character to more modern tracks, too.
Vinyl Drums is the result of tasteful crate digging, layering drum machine sounds, and modern processing.
If you're in the mood for more retro sounds, check out the free Zumzet Lite from Audiolatry.
WAV files included in this pack are compatible with all major DAWs. A free tester pack is available for download via ModeAudio.
ModeAudio currently has a 3-for-2 offer on all packs, so if you like Vinyl Drums, check out the rest.
The Giveaway
ModeAudio offers a FREE copy of the Vinyl Drums (€18.40) pack to two lucky BPB readers! A big THANK YOU to ModeAudio for sponsoring this giveaway!
To enter the giveaway, simply answer this question in the comments section below: What is your favorite vintage drum break?
The winners will be announced on November 2nd, 2022.
Good luck, everyone, and thanks for reading BPB!
More info:
---
↑↑↑ 上方链接直接到达 ↑↑↑
资讯出处:GIVEAWAY: ModeAudio Vinyl Drums (2 FREE Copies Inside) - Bedroom Producers Blog