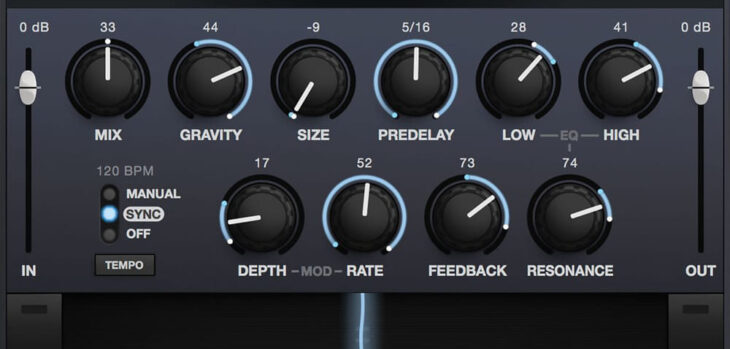 Plugin Boutique offers a massive 85% discount on the Blackhole reverb from Eventide until October 31st, 2022. The purchase includes a FREE copy of Lifeline Expanse Lite.
Blackhole usually costs €199, but with an 85% discount, you can get it for just €29. This discount is only available for a limited time and ends on October 31st, 2022.
Eventide's Blackhole has been around for a long time and is still widely considered one of the most expansive reverb plugins you can buy.
It's expansive in that it does everything from a small room to virtually-infinite space.
When words like otherworldly and abstract are used so often to describe Blackhole's effect, it's fair to say that emulating real spaces isn't its primary purpose; it's more about pushing the boundaries of spatial effects in sound design.
Whether you are trying to turn a mundane sound into a wild cinematic soundscape or transform average drums into an immersive percussion powerhouse, Blackhole likely has something for you.
However, we should also say you don't always have to push boundaries. If you want to add a little extra character to a prominent sound/instrument, you can easily do that too.
Blackhole has some cool features, like Gravity, Ribbon, Hot Switch, and Kill Switch.
The Gravity control inverts the reverb decay, creating a kind of lost-in-time/space effect.
The Ribbon and Hot Switch allow you to change any combination of parameters at the same time for unique morphing effects.
The Kill Switch mutes the input, leaving only the reverb audible.
Over the years, people have told me how good Blackhole is and stared at me like I'm a complete loser for not owning it already.
In my defense, it's been on the list of plugins I plan to buy upon starting my next project. The trouble is, by the time the next project starts, I've forgotten Blackhole and typically don't remember again until it's too late. At that point, I look at the price, decide not to spend the cash when I won't use it immediately, and the cycle resets.
Now, I don't have an excuse, I'm in the middle of a project, and Blackhole is on sale. So, I guess it's time for me to start using it and not just hearing it.
Don't forget you'll also get a free copy of Lifeline Expanse Lite with your purchase.
Blackhole is available in 64-bit AU, VST2, VST3, and AAX formats for macOS (10.9 upwards – M1 supported) and Windows (8 upwards).
Get the deal: Eventide Blackhole (85% OFF until October 31st, 2022)
More:
---
↑↑↑ 上方链接直接到达 ↑↑↑
资讯出处:Get 85% OFF Eventide Blackhole + FREE Lifeline Expanse Lite - Bedroom Producers Blog