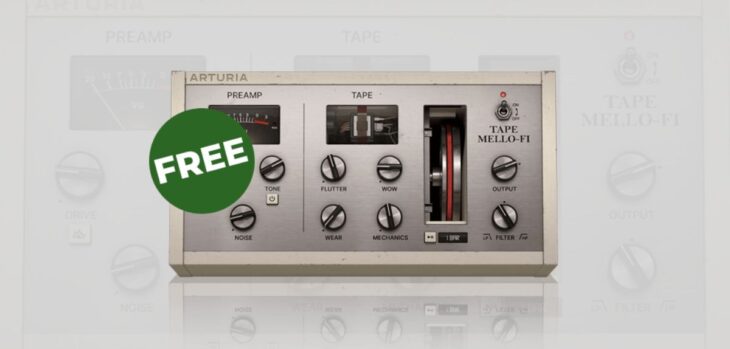 Audio Plugin Deals offer the Tape MELLO-FI (€99 value)lo-fi audio plugin as a FREE download until November 10th, 2022.
Tape MELLO-FI is Arturia's vintage-inspired lo-fi audio effect. It typically costs €99, but you can get it for free exclusively via Audio Plugin Deals.
We already covered Tape MELLO-FI several months ago. Arturia offered it as a limited-time freebie on their website on launch. If you missed that offer, here's one more chance to get it for free.
Who is this plugin for?
If you're looking for an easy-to-use audio effect that will make your audio sound vintage, Tape MELLO-FI should definitely be on your radar. You can use it to fake the sound of worn-out tape recordings in the comfort of your DAW.
So, instead of resampling to a tape recorder, you can pass the audio through Tape MELLO-FI and get convincing-sounding results. The plugin emulates the subpar tone and pitch inconsistencies of vintage recording gear and does a pretty good job.
You can hear Tape MELLO-FI in action in the announcement video below.
Arturia also offers a video tutorial on how to get the most out of Tape MELLO-FI.
The tutorial video is fun to watch, but it's not to say that Tape MELLO-FI is hard to use. It's a rather self-explanatory audio effect, and you'll probably enjoy discovering what each control does when you use it for the first time.
The interface is organized into two main sections. The Preamp section on the left hosts the VU meter, Drive, Tone, and Noise controls. That is where you'll apply the subtle analog distortion and broad tonal changes to your sound.
The Tape section on the right lets you fine-tune the properties of the emulated tape recorder. You can apply pitch inconsistencies, flutter, mechanical wear, and other artifacts that make tape recordings sound so wonderfully imperfect.
The plugin also features a tape stop effect and a pair of filters (high-pass and low-pass) to shape the tone on the output. The tape stop is a special effect, especially if you synchronize it to the host's tempo.
Tape MELLO-FI is available in VST, VST3, AU, and AAX plugin formats for digital audio workstations on Windows and macOS.
Get the deal: Tape MELLO-FI (FREE @ Audio Plugin Deals until November 10th, 2022)
More:
---
↑↑↑ 上方链接直接到达 ↑↑↑
资讯出处:Arturia Tape MELLO-FI Plugin Is FREE Until November 10th - Bedroom Producers Blog