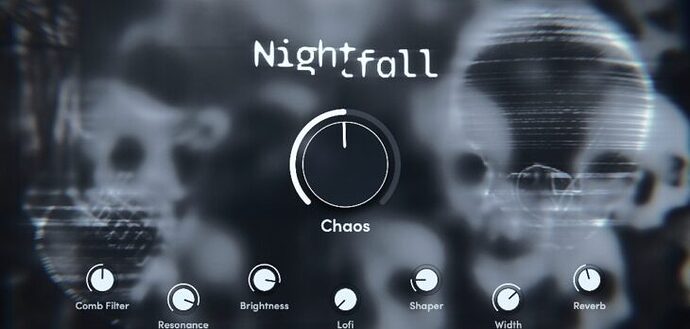 Plugin Boutique offers the Nightfall spooky sound library by Capsule Audio for free until November 1st, 2022.
Nightfall is a library of ominous and spooky sounds crafted by Capsule Audio. It is now available for free, for a limited time, thanks to Plugin Boutique.
Capsule Audio explains that Nightfall comes from '6 feet under.' It is packed full of spooky sounds fit for a horror movie score or simply to add a sense of unease to a track. Obviously, this sound library is a must-have for film composers and producers who need some spooky sounds this Halloween.
The developers at Capsule Audio were inspired by horror movies like Alien and Zombieland when developing this plugin, so expect suspenseful landscapes and unnerving textures. Nightfall has 64 presets, including plenty of ominous drones, from low, warbling textures to high-pitched glassy shrieks and everything in between.
If you're looking for a drone to add a sense of unease, you will undoubtedly find it here.
The library also includes a good deal of piano sounds and melodies. Again, these are piano sounds you'd expect to hear in a horror score, so they are suitably detuned and strange sounding – think of a haunted house with a ghost trailing along the piano keys.
Of course, there are some bells and glassy tones, but the real standouts in this set of presets are the orchestral sounds. There are some really good string sounds here, lots of plucks and scrapes, and other types of experimental violin/cello playing that can really make your track stand out. They have been recorded and sampled well, so they sound organic and authentic.
There are some nice-sounding bass synths here, too. Thick, square waves – everything you need for a high-intensity sound.
All the sounds are customizable with a good range of controls, including drive, cutoff, response, width, delay, delay time, reverb, and reverb size. These controls might not drastically affect the sounds, but there is enough to play with to make the sound into something more unique and personable. Overall, you might want to chain your own effects to really experiment with the sounds available.
While this library might be most helpful for film, theatre, and TV work, there are plenty of sounds here for producers of music across many genres. The orchestral sounds are especially useful.
There is a lot to play with here, so you should definitely get this for free while you can. It does take up over 1 GB on your computer, so that is something you should consider.
Please note that you will need Capsule Audio's player to load Nightfall in your digital audio workstation. Nightfall is free exclusively via Plugin Boutique until November 1st.
Want more spooky sounds? Check out the free horror sound effects by 99Sounds.
Get the deal: Capsule Audio Nightfall (FREE until November 1st, 2022)
More:
---
↑↑↑ 上方链接直接到达 ↑↑↑
资讯出处:Capsule Audio's Nightfall Spooky Sound Library Is FREE This Halloween - Bedroom Producers Blog