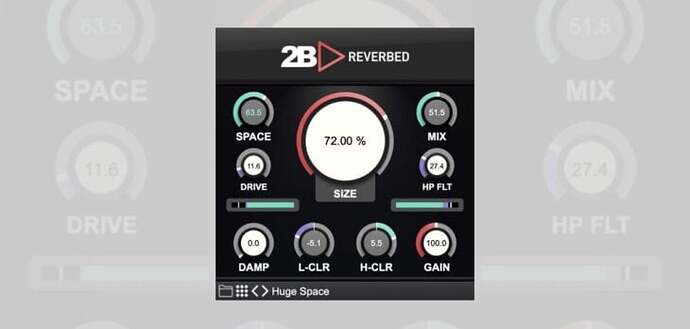 2B Played offers the 2B Reverbed (€16,53) reverb plugin as a FREE download until November 1st, 2022.
2B Reverbed is very easy to use – it is nicely designed with a very straightforward user interface. The generated reverb effect, while not overly natural sounding, can be used with great effect to add depth to your mix. This plugin is free until November 1st with the code 2BFREE.
The plugin comes with six presets (Huge Space, Low Drive, Vocal Drive, Vocal Verb, and Width High). These presets sound good and provide a useful starting point for creating your custom reverb settings.
Control-wise, there are knobs for controlling the space and size, going from a very small bedroom-size studio to giant cathedral-like spaces and otherworldly abysses.
The built-in high-pass filter lets you remove some of the business generated by the reverb algorithm, although an actual EQ would have been a good addition to this plugin. It is recommended to use a third-party EQ plugin to fine-tune the reverb's tone so that it sits perfectly in your mix.
The Gain and Drive controls are a nice addition – the saturation algorithm is decent and perfectly capable of adding a little bit of fuzz and/or dirt to the reverb.
Overall, this is a good plugin and a nice-sounding set of reverbs with a good degree of customization. The plugin could be improved with a little more variance or a combination with another effect like a delay. However, it is well-designed and sounds great. Producers looking for a compact yet versatile reverb plugin should download this while it is still on offer for free.
If you happen to miss the deadline to download 2B Reverbed for free, there are a host of other freeware reverbs for producers on a budget.
This includes the popular Valhalla Super Massive, a diverse reverb and delay plugin with some great experimental qualities and features. There's also TAL-Reverb-4, a reverb built with an 80s character in mind. Black Rooster Audio's recently released RO-GOLD is an excellent reverb plugin based on vintage 70s hardware. And if you want something a bit different, try our free BPB Dirty Spring.
2B Reverbed is available in VST3 and AU plugin formats for 64-bit plugin hosts on Windows and macOS. The free download offer expires on November 1st.
Get the deal: 2B Reverbed (free until November 1st with the code 2BFREE)
More:
---
↑↑↑ 上方链接直接到达 ↑↑↑
资讯出处:2B Reverbed By 2B Played Is FREE Until November 1st - Bedroom Producers Blog