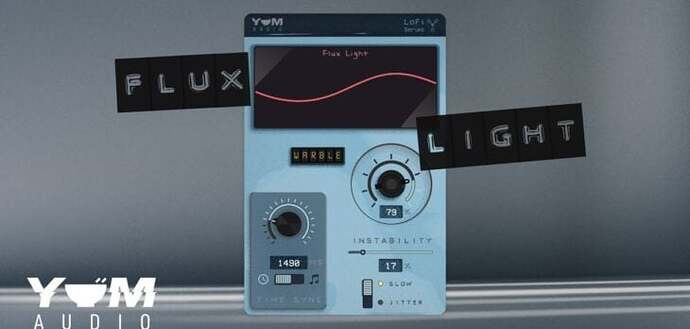 ADSR Sounds offer the LoFi Flux Light (€49 value) plugin by Yum Audio as a FREE download with any purchase this month.
LoFi Flux Light is a lo-fi audio effect by Yum Audio. It typically costs €49 but is currently available as a freebie with any paid purchase made on ADSR sounds. This offer is live till November 30th.
As the name suggests, this plugin is designed to apply an old and aged feel to your sound. More specifically, it is modeled after analog tape warbles to give accurately generated variations in pitch and speed. LoFi Flux Light will make any audio source sound like it's being played on a wobbly old tape player.
The controls make it easy to dial in as much or as little of the effect as you want. There is a slow mode for gentle modulation and a jitter mode for fast randomness. Apart from that, there is also the option to sync the plugin to the tempo of your project or to keep it free. You can automate these parameters to add interest and depth to your audio signal.
It is a relatively simple plugin with an easy-to-use interface. There is a graph visualizer that shows the warble effect in action in real-time. The interface looks a bit like a guitar pedal FX unit, which only adds to the vintage feel of the plugin.
The controls are neatly laid out and easy to get to. There are only a handful of things to tweak, and together they deliver exactly the sound you want.
LoFi Flux Light sounds realistic and nuanced, which is essential for plugins that emulate the lo-fi properties of vintage analog gear. It doesn't sound forced or fake. This makes it easy to drop into any track you are working on, and it seems to work just fine with any type of audio.
LoFi Flux Light is a smaller, lighter version of the Flux Machine Plugin from the same company. Flux Light is currently retailing for €49, making it a good freebie value.
If you're looking for more lo-fi tools, check out the Tape MELLO-FI plugin by Arturia. It is free until November 10th.
Get the deal: LoFi Flux Light (FREE with any purchase @ ADSR Sounds)
More:
---
↑↑↑ 上方链接直接到达 ↑↑↑
资讯出处:Yum Audio LoFi Flux Light Is FREE With Any Purchase @ ADSR - Bedroom Producers Blog