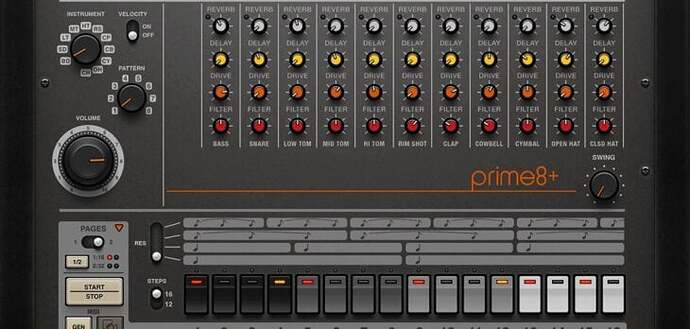 UVI offers the Prime8+ (€39 value) virtual 808 drum machine plugin as a FREE download for a limited time (iLok account required).
Prime8+ is a sample-based virtual 808 drum machine that runs in UVI Workstation (freeware) and Falcon.
There are so many free 808s nowadays that we recently posted an article about free 808 VST plugins. But, Prime8+ is definitely worth your attention because it comes from UVI, a company that creates some of the best sample-based virtual instruments on the market.
Prime8+ comes with over 140 kits and 1,100 MIDI patterns. The included 808 drums were sampled using a Class-A signal chain and were mastered by Chris Gehringer at NYC-based Sterling Sound studios.
The instrument sounds crisp and clean, capturing the original 808 character. It's punchy, warm, and some would say overused, but undeniably iconic.
And it's not all about the sound, either. Prime8+ comes with a fully featured user interface that lets you fine-tune the sounds to perfectly fit your project. You can apply filtering, reverb, delay, and saturation.
The instrument also features a step sequencer, and that's where the included MIDI patterns play their role. Prime8+ makes it easy to get new projects going with a huge selection of 808 loops and sequences right at your fingertips.
Here's how UVI describes Prime8+:
"Prime 8+ is designed to be the first and last word for these classic drum machine sounds. Using an old-school analog hardware approach we deliver the real hit-record sound, not just the machine, but the sound of a world-class recording studio. Starting with a full hardware inspection and restoration, we ran each sound of Prime 8+ through a Class-A signal chain and captured it using the best converters at the highest resolution available."
To claim your free copy of Prime8+, add it to your shopping cart on UVI's website (linked below) and apply the coupon code FREEP8 at checkout. This is a limited-time offer.
Please note that an iLok user account is required for activation purposes. You don't need the USB dongle, but you'll need to install the iLok License Manager software.
Also, Prime8+ is not a standalone plugin. It requires either the freeware UVI Workstation plugin or the Falcon virtual synthesizer.
Get the deal: UVI Prime8+ (FREE with coupon code FREEP8)
More:
---
↑↑↑ 上方链接直接到达 ↑↑↑
资讯出处:UVI Prime8+ Virtual 808 Plugin Is FREE For A Limited Time - Bedroom Producers Blog