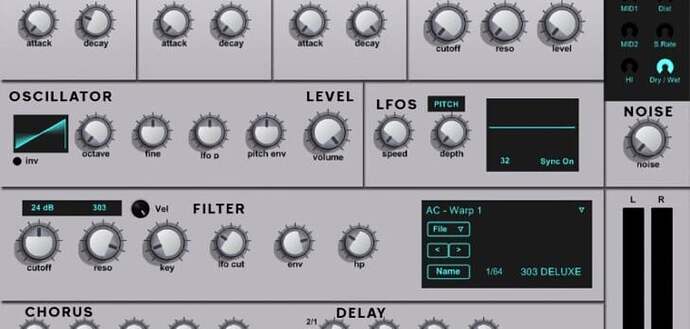 Infected-Sounds releases 303 Deluxe, a freeware bassline synthesizer for digital audio workstations on Windows.
303 Deluxe is a free virtual instrument inspired by the Roland TB-303 bassline synthesizer. With so many 303 clones around, is there room for yet another virtual 303?
Infected-Sounds is a software manufacturer specializing in VST instruments developed using FlowStone. Their plugin catalog is suitable for both beginners and advanced musicians.
Inspired by the well-known TB303 bassline synthesizer, 303 Deluxe offers a decent selection of presets and a multitude of modulation choices. It also features built-in effects and the ability to layer waveforms. The pack of 64 sounds you start with is enough to get your creative juices flowing.
Additionally, this plugin comes with sixteen morphable waveforms, an oscillator, and eight powerful FX modules that extend the sound design capabilities provided by the 303-style synth engine.
The easy-to-use modulation options can be understood and manipulated by both amateurs and professionals. Sound alteration possibilities are endless with its five filter modes, three envelopes, five low-frequency oscillators, and many other settings to try and experiment with.
Synthesizers are now used in almost every known music genre. It is the only electric instrument that can compete with electric guitars in terms of versatility and richness. The bass synth, like the electric guitar, has inspired entirely new genres of music.
303 Deluxe allows you to experiment with acid-style basslines and produce juicy analog bass and leads, as well as very crisp-sounding arpeggios and noise sweeps. These and other features win this bass synth a notable place in the company of other 303 clones.
It will generously cover all your needs ranging from super fat bass and leads to SFX sounds with plenty of filter resonance. The only limit to the variety of sounds produced by this bass synth is your creativity. Truly a useful addition to any free VST library.
303 Deluxe comes in VST and VST3 plugin formats and operates on both Windows 32 and 64-bit. It requires you to have "Visual C++ Redistributable Packages for Visual Studio 2013," which you can download for free.
It seems that the developer changed the price of this plugin a few times from $0 to $5. 303 Deluxe is currently free, but please leave a comment if you notice another price change, and we will update the article accordingly. Thank you.
Download:
More:
---
↑↑↑ 上方链接直接到达 ↑↑↑
资讯出处:Infected-Sounds Release FREE 303 Deluxe Bassline Synthesizer - Bedroom Producers Blog