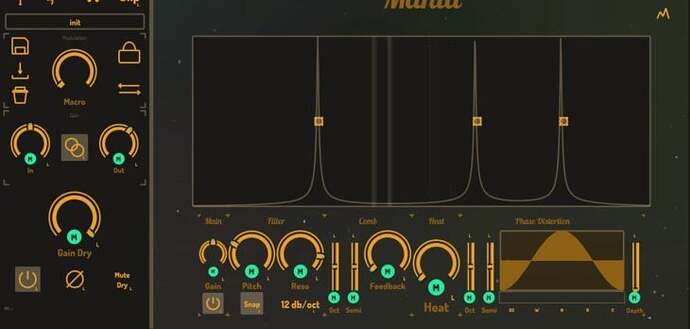 Florian Mrugalla releases Manta, a FREE parallel bandpass plugin for Windows (an unofficial macOS version is also available).
Manta is a parallel bandpass plugin designed to fatten up your drums, amongst other things.
The developer credits Dan Worrall as the inspiration for this plugin, and f you check out the description on the Manta YouTube video, you'll find a link to a very useful Dan Worrall video, where he discusses, in some depth, parallel bandpass filters.
Dan also discusses various reasons for thin-sounding drums, such as bad microphone placement or poorly tuned drums. In his video, Dan counters the argument that you can't fix a bad recording, or at least not to a high standard.
Instead, Dan suggests with the correct diagnosis and tools, your track is far from doomed if you have a less-than-stellar drum recording.
On the subject of drums, Audiolab is offering a 20% discount on the new Emergent Drums AI-powered drum synth.
Most importantly, Dan highlights the effectiveness of parallel bandpass filters, which might convince you that you need a plugin like Manta.
Manta has some very nice features that allow you to hear precisely what the effect is doing. You can mute the dry signal completely, or you can turn individual filters on/off to isolate and hear their role in the overall effect.
Beyond fattening your drums, Manta is something of a sound design tool, too. The Heat control provides some basic saturation, while the Phase Distortion module offers a kind of ring modulation effect.
At first glance, the GUI appears to have a lot going on, but it's not too overcrowded. Hovering over any control will display a simple description of its function, which is always handy in any plugin.
Manta seems to be well-designed and versatile enough to provide solutions to a few different problems. It's always a credit to the developers who put the work into making plugins like Manta available for free.
You could check out his Beats Bastein Bandcamp page if you want to show some additional support. It is always interesting to hear the music that plugin developers are creating.
Manta is available in VST3 format for Windows. There are no plans for an official macOS version, but you can find an unofficial mac build (not compiled by the original developer) in the release section.
Looking for more crazy filters? Check out our free BPB Dirty Filter plugin.
Download:
Manta (download via GitHub)
More:
---
↑↑↑ 上方链接直接到达 ↑↑↑
资讯出处:Manta Is A FREE Parallel Bandpass Plugin By Florian Mrugalla - Bedroom Producers Blog