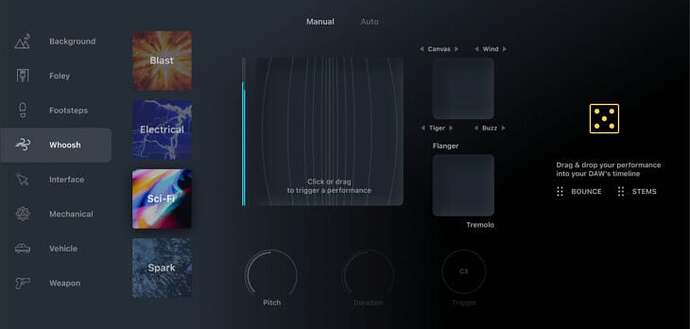 Krotos announces that you can get Hollywood sound effects for free with Krotos Studio for macOS and Windows.
Krotos Studio is a free platform that helps users create authentic soundscapes for their projects in seconds, with or without sound design experience.
Sound plays a vital role in any film or game production; it can make or break a project. People typically remember what they see on the screen more than what they hear, but the sound often dictates how they feel (at least it should).
Imagine the saddest scene in every tearjerker ending with some Seinfeld-like slap bass. Or, on the fifth time saying Candyman in the mirror, he appears to the sound of some Seinfeld-like slap bass. I'm not just giving you an insight into my failed pitches to score Hollywood blockbusters; I had other ideas, and slap bass was only about 85% of them.
The point is that sound can change everything. Even as a kid gaming, before I had any serious interest in music, I remember the ominous drones that signaled potential danger and triggered anxiety. It's worth checking out the Alien Isolation soundtrack, scored, in part, by Christain Henson (Spitfire Audio LABS), or Resident Evil, scored by Makato Tomozawa.
If you made it through my nostalgic rant, well done. Choosing the right sounds isn't just about music; it's about anything that immerses the audience in a scene, such as traffic, passers-by, birds, dogs, etc.
Krotos Studio aims to help you find those sounds quickly and use them dynamically. The first step is choosing one of the available ambiances, like Suburb. Krotos Studio provides two X/Y pads that allow you to blend different elements of that ambiance, which in the Suburb preset are Birds, Traffic, Kids Playing, and Dogs.
The ability to blend and morph between elements adds movement and life to the sound, which makes it more immersive, even if the scene is stationary. Kronos Studio works as a plugin in most popular DAWs, and the interface seems very intuitive. A menu on the left-hand side lets you select Ambiences, Foley, Footsteps, Whoosh, and so on.
With the Autoplay function on, the plugin will record your entire performance (which can be as long or short as you like). You can then drag your recording straight into your timeline. I like the performance aspect of it, rather than dropping in samples and then automating volume, etc.
Krotos Studio is a work in progress, which means the developers will add more sounds/features and continue to make improvements into 2023. Some significant updates should include the option to upload any samples (check out Cinematic SFX by Flame Sound) and the release of a Pro version.
The success of Krotos Studio will depend on how it develops over time, but I like the concept and see it being a real time-saver in many cases.
All sounds are 100% royalty-free.
Download:
More:
---
↑↑↑ 上方链接直接到达 ↑↑↑
资讯出处:Krotos Studio Lets You Create Hollywood Sound Effects For FREE - Bedroom Producers Blog