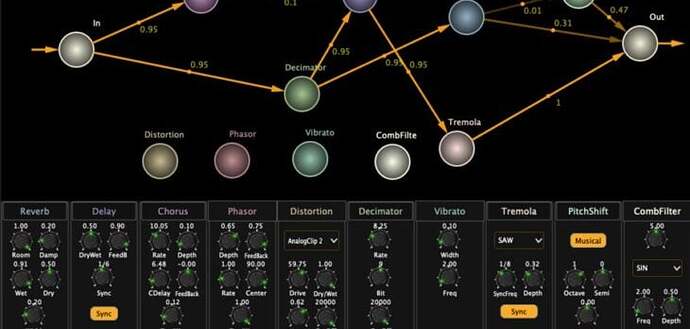 Tugrulakyuz releases 2RuleSynth V3, a freeware synthesizer in VST3 plugin format for Windows and macOS.
2RuleSynth has two independent oscillators with freely assigned parameters. Each independent oscillator contains two-layer dependent envelopes, one for amplitude and another for modulation of the filter. Each oscillator also contains its own dedicated filter, as well as an LFO, which can manipulate the amplitude, filter, and pitch of the selected oscillator.
There are three filter types to choose from, with a low pass, high pass, and bandpass all being on offer.
In addition to the oscillator section, there are additional controls for altering the timbre and harmonics of the sound of both oscillators through the algorithms panel. The panel has controls for ring modulation, frequency modulation, waveform distortion, glissando, and the master volume output.
On the surface, 2RuleSynth V3 seems like many of the freeware synths out in the wild, but this one does have some unique features which set it apart from the pack.
New to version 3 is the effect network, which allows producers to freely route the signal flow through a multitude of the included effects in a modular manner. The effects are freely assignable, with a good assortment of effects for common and not-so-common use cases available.
Assignment of these effects is relatively simple, double clicking on a node and dragging the arrow to the next node being all that's required to get some interesting and otherworldly effects going. As most would expect, the effects sync with whatever DAW a producer might be running.
2RuleSynth v3 also comes with 49 included presets, which seem to lean more toward the experimental side of things.
For producers wanting to dive into the more experimental side of music making, 2RuleSynth V3 seems like a great fit. There's a randomize button for scrambling up all the parameters, which goes into some delightfully unusual territory.
2RuleSynth v3 is currently available in VST3 plugin format for Windows and macOS and can be found on Tugrulakyuz's Gumroad page.
Is it worth downloading? There are certainly enough creative implementations of standard features present to make the case, and the freeform effects routing would lend itself handily to sonic experimentation.
Download:
More:
---
↑↑↑ 上方链接直接到达 ↑↑↑
资讯出处:Tugrulakyuz Releases FREE 2RuleSynth V3 Virtual Synthesizer - Bedroom Producers Blog