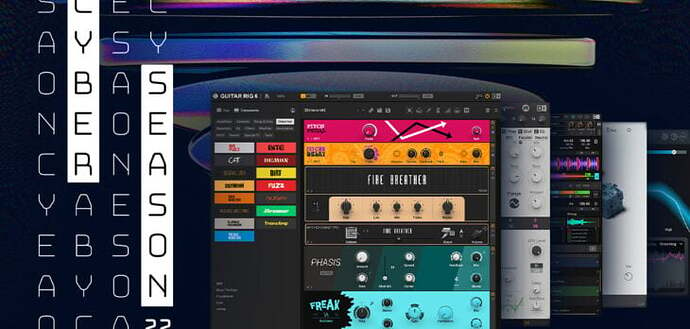 Native Instruments launched the Cyber Season Sale with up to 75% OFF in discounts on iZotope products, Komplete products, Traktor Pro 3, expansions, individual plugins, and many other products.
It appears that, beyond the Black Friday and Cyber Monday deals, we now get to celebrate an entire season! Native Instruments discounts are available until the 6th of December and on a huge lineup of plugins.
Since iZotope and Native Instruments are now part of the same parent company called Soundwide, the iZotope plugins are also on discount. These mixing and mastering essentials are currently a whopping 75% off. That's great for anyone who wants to add easy-to-use post-production plugins to their workflow.
The latest AI features from the iZotope family are worth looking at, and you can use them with the recently released iZotope Audiolens plugin.
The rest of the products are 50% off. These include all the plugins from the Komplete Instruments and Effects series. This includes popular instruments like Playbox, Lore, Massive, and Reaktor 6 and effects like Replika XT, Supercharger, and the Solid Mix series.
NI is also offering expansion packs at half-price, so if you have been eyeing some of these high-quality sample and loop packs, now is an excellent time to jump in. Guitarists and producers who love using guitar-centric effects can also rejoice because Guitar Rig 6 Pro is also available as part of the half-price sale.
Not leaving out the DJs, Native Instruments also offer Traktor Pro 3 at half-price. So now it is just $49.50.
That covers almost all of what Native Instruments is known for and has to offer. So if you have been on the fence about any of these products, grabbing them at half-price should make the decision that much easier.
For those who are new to Native Instruments, this is a company that has been at the innovative forefront of the electronic music production industry for over a decade now. They have been trendsetters, and some of their platforms, like the Kontakt Player and the Reaktor Instrument builder, are standards used by plenty of third-party companies to create various well-known instruments and effects.
Traktor Pro is a de-facto in the DJ-ing industry. And iZotope goes even further back and is a giant in the post-production part of the music industry.
The offer doesn't include Komplete 7 and Choir. Other than that, there's not much we can find fault with in this Native Instruments Cyber Season sale.
Get the deal: Native Instruments Cyber Season Sale (up to 75% OFF)
More:
---
↑↑↑ 上方链接直接到达 ↑↑↑
资讯出处:Native Instruments Launch Cyber Season Sale (75% OFF) - Bedroom Producers Blog