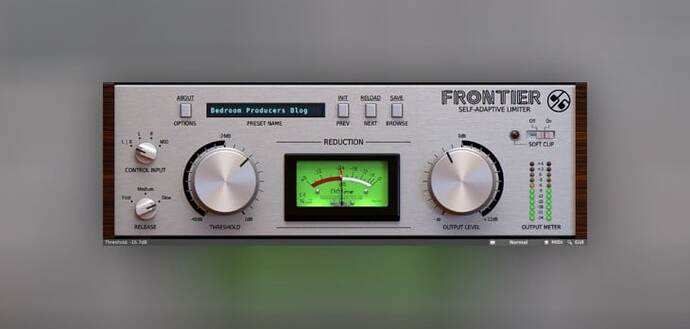 D16 Group updates Frontier, a freeware limiter effect in VST, AU, and AAX plugin formats for DAWs on PC and Mac.
Frontier is a self-adaptive versatile limiter, available for FREE to registered D16 Group users.
The latest version of the Frontier limiter received a subtle visual facelift. The most notable new feature is the ability to resize the GUI.
When you get a great plugin with a GUI that either won't re-size or turns into a blur when you make it 10% bigger, it's a pain. Frontier now comes with a fully resizable GUI, which should remove one of the few complaints it ever got.
Most limiter plugins will claim to be versatile, but it's not always the case when you start using them.
One of the main reasons for the lack of versatility is that some don't have the subtlety of Frontier. It's not to say the effect always has to be subtle; it's about having many subtle transitions between smooth and saturation/drive.
Frontier has the ability to be as discrete or indiscrete as you like, and that's what makes it so versatile.
It's a great tool to enhance/control the dynamics of a single track/instrument, add some harmonic saturation to a vintage drum machine/plugin, or bring a song up to commercial loudness levels.
The other thing that makes it versatile is that it has a simple and easy-to-use GUI, which should be even easier now it's resizable.
Frontier has been around for a little while, and if you don't have it yet, you should grab it. When you can get professional results from a free plugin, it's a no-brainer.
The plugin is available for macOS (64-bit) and Windows (32/64-bit) in AU, VST, and AAX formats.
Download:
D16 Frontier (54.7 MB download size, MSI installer, 32-bit & 64-bit VST/AU/AAX plugin format for Windows & macOS)
---
↑↑↑ 上方链接直接到达 ↑↑↑
资讯出处:FREE D16 Frontier Limiter Plugin Receives An Update - Bedroom Producers Blog