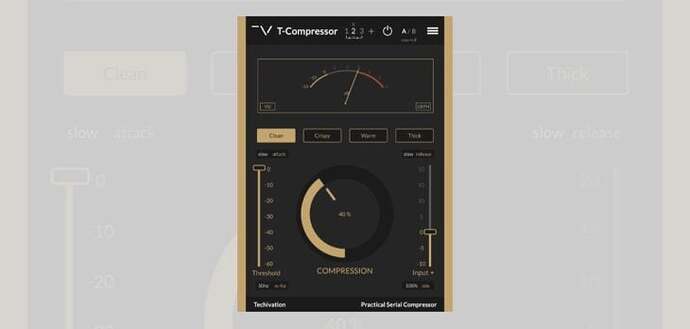 Techivation offers the T-Compressor ($49 value) plugin as a FREE download until 11:59 PM GMT on November 15th, 2022. There are only 3,000 licenses available.
T-Compressor is a versatile compressor effect for mixing and mastering. It is capable of sounding transparent on colorful, depending on the user's requirements.
Techivation included three compressors in a single plugin. The user can add up to three compressors in a single plugin window and access them through tabs, similar to how an internet browser works.
T-Compressor is also capable of serial processing, letting multiple compressors share the load of taming the processed signal's dynamics. This results in a more transparent sound on the output.
The serial compression technique is especially useful when handling complex audio recordings with multiple elements, such as acoustic drum kits or stereo mixes. You can use multiple compressors on different areas of the signal to get the best results.
Here's how Techivation explains the use of T-Compressor in this context: "For example, you can first apply a gentle amount of clean compression, then add some of the "Warm" flavors, and finally, add a dash of "Crispy" at the end. There is a lot of potential in this feature, so be sure to take advantage of it to make your audio stand out."
Additional features include attack/release speed adjustment, auto-gain, VU metering, A/B testing, and dry/wet mix adjustment.
T-Compressor typically costs $49, but you can get it for FREE during this freebie flash deal from Techivation. The offer expires exactly at 11:59 PM GMT on November 15th. It's also worth noting that only 3,000 licenses are available for free download.
To claim your free T-Compressor license, visit the product page linked below, log in to your Techivation user account, and click the DOWNLOAD FREE button. You will receive an email containing the redemption key that you'll need to activate through your account (thanks to BPB reader Mike for the information).
If you like vintage-inspired compressors, be sure to check out our BPB Dirty LA plugin, which takes inspiration from vintage limiting amplifiers.
T-Compressor is available in VST, VST3, AU, and AAX plugin formats for digital audio workstations on Windows and macOS.
Download:
T-Compressor (expires at 11:59 PM GMT on November 15th, 2022)
More:
---
↑↑↑ 上方链接直接到达 ↑↑↑
资讯出处:Techivation T-Compressor Is FREE Today Only (3,000 Licenses Available) - Bedroom Producers Blog