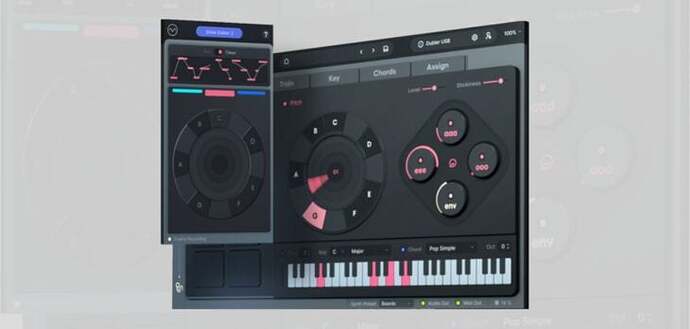 Vochlea Music announces forthcoming Black Friday deals on Dubler 2 (join the Vochlea Music mailing list to stay up to date).
Dubler 2 harnesses the power of your voice using clever voice-to-MIDI technology. This technology allows you to use your voice to trigger anything you usually would with a regular MIDI controller (keyboard, launchpad, etc.).
As well as being quick and easy, it gives producers of all levels a chance to develop complex musical ideas that they maybe couldn't play otherwise. For example, if you asked me to play guitar like Django Reinhardt, you'd be disappointed, but ask me to sing/scat Minor Swing into a mic, I could have a go.
Basically, your voice becomes an entire band, laying down the rhythm, harmony, melody, and everything in between.
Most of us have recorded random voice notes on our phones when an idea comes to mind, thinking it would make a great synth line or pattern, etc. I whistle mine because I don't wish my out-of-tune singing on anyone, not even myself. But the point is that we make these notes, imagining how it would sound as a synth or whatever instrument we have in mind. The easiest way to think of Dubler 2 is that it takes your voice note and turns it into whatever you need.
You can beatbox to create a drum track, sing basslines and rhythmic patterns, and you don't have to be a good singer. Dubler 2 has handy tuning features like pitch assistance and live pitch tracking, along with fourteen scales with advanced key detection. The software learns your voice in under 30 seconds, and if there are notes you can't quite hit, Dubler 2 will get you there.
Similarly, if you want to pitch bend, Dubler 2 can follow your voice precisely (TruBend) or offer extra assistance (IntelliBend).
You aren't limited to vocal input; you can train the software to respond to clicks and claps, allowing a layered dynamic performance.
Dubler 2 also offers some basic and advanced chord options that let you trigger common triads or complex progressions easily.
A recent free Dubler 2 update implements the new MIDI Capture companion plugin. It enables recording cleaner pitch MIDI with Dubler 2 and adds the ability to drag and drop recordings directly into the DAW.
The MIDI Capture workflow is quite straightforward. Load the plugin on a MIDI channel in the DAW, and it will automatically connect and sync to the Dubler 2 application. Once that's set up, it will start recording your melodies directly within the plugin.
You can see the MIDI Capture feature in action in the video embedded below.
Vochlea created the Dubler microphone, which is still available, but a new calibration process means you can use your own dynamic microphone.
Saying Dubler 2 just turns your voice into various sounds is a little underwhelming; it's more sophisticated than that, and you could create excellent songs/content. I advocate for anything that makes music more accessible, with the caveat that it encourages learning and musicianship rather than replacing it. My one concern with something like Dubler 2 is that it removes the need or want to learn more for some users, but that's down to the user.
Vochlea Music invites you to join their exclusive Black Friday mailing list to secure the best Dubler 2 deal.
Black Friday will have come and gone before we know it, so if you haven't yet, check out our no-brainer Black Friday deals before it's too late.
More info:
Vochlea Music (sign up to get the Dubler 2 deal)
---
↑↑↑ 上方链接直接到达 ↑↑↑
资讯出处:Vochlea Music Announces Black Friday Sale On Dubler 2 - Bedroom Producers Blog