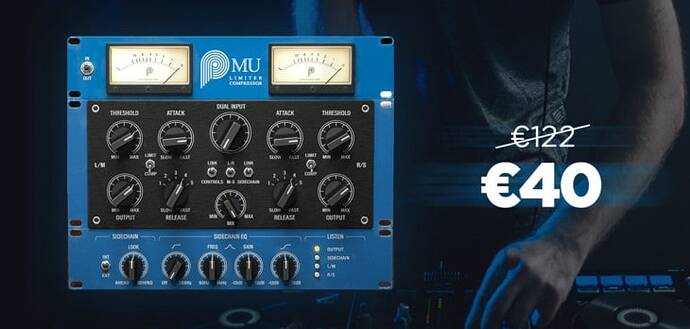 VSTBuzz offers a 67% OFF deal on the Mu compressor plugin by Pulsar Audio for a limited time.
Pulsar Mu (€149 value) will be available for macOS and Windows AU, VST2.4, VST3, and AAX formats at the discounted price of €40 until June 10th.
Variable Mu (gain) compressors are known for being very smooth with little distortion. These characteristics often make them the first choice for drums, vocals, and acoustic instruments. In terms of hardware, we can look to units like the Fairchild 670 and the Manley Vari-Mu as stellar (and very expensive) examples.
There probably aren't as many Vari-Mu emulations in plugin form as there are other types of compressor, but there's still plenty to consider. Three of the most highly recommended are UAD's Manley Vari-Mu, Arturia's Comp TUBE-STA (which I use and like), and Pulsar's Mu.
Pulsar's Mu is widely considered to be one of the most accurate emulations of the Manley Vari-Mu. Despite being an accurate recreation, it does offer some features that the original hardware doesn't. Most notably, an external sidechain input, sidechain EQ, and look ahead/behind features.
The external sidechain input makes the plugin a little more versatile and suitable for applications like ducking or de-essing. By adding the sidechain EQ with a high-pass filter, adjustable mids, and high shelf, Pulsar has made it possible to control the compressor's response with greater precision.
The look-ahead feature helps avoid any sharp transients by treating them before they occur. On the other hand, the look-behind feature delays gain reduction, leaving fast transients unprocessed.
Like the original hardware, Pulsar's Mu operates in either left/right or mid/side modes, which is why it has the central Dual Input knob.
Mid/Side processing appeals to many users because it gives the ability to make a track sound wider by making adjustments to the specialization of a mix. It's done by processing the middle and the sides independently, and this plugin has a nice "listen" feature that allows you to monitor mids or sides only.
By the developer's own account, Mu is designed with mixing and mastering in mind but is flexible enough for tracking. While it can definitely be the glue that your mix or master needs without sounding unnatural, I think it probably offers more versatility than you might expect.
FREE is always better, I know, but it might be a good time to grab Pulsar Mu in terms of value for money versus the competition.
More info:
Pulsar Mu (67% OFF @ VSTBuzz)
---
↑↑↑ 上方链接直接到达 ↑↑↑
资讯出处:Get 67% OFF Pulsar Mu Tube Compressor @ VSTBuzz - Bedroom Producers Blog