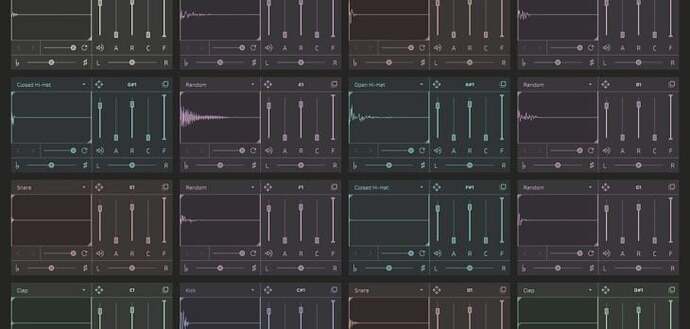 AudiaLab has announced their AI drum plugin Emergent Drums is 45% OFF for a limited time.
Emergent Drums uses a novel approach to creating drum kits, leveraging machine learning and AI to generate sounds rather than sampling or conventional synthesis methods.
Emergent Drums is able to synthesize countless drum samples, all deeply controlled with a slew of parameters. The AI model employed by Audia Labs was trained on a massive database of drums and percussive sounds and, as a result, can generate practically limitless samples.
Generating drum samples using AI is easy, too, with producers only needing to select what type of sound they want to make. After this, it's as simple as hitting the generate button at the bottom of the sampler cell to get going.
Drum sound shaping is done in the sample editor, which allows producers to trim samples, utilize envelopes, tune the pitch through coarse or fine-tuning, and control the panning. Variations on samples can be generated with the slider below the sampler panel, allowing similar samples or more randomized variations of a sound to be created.
Trimming samples is also easy. The sample editor has a pair of sliders for tidying up the tail of a sound or picking a different starting point.
Multi-out is supported with a recent update, which is an absolute must for multi-channel drum instruments. No built-in effects processors are present at the time of this writing, but Audia Labs is receptive to feedback.
Emergent Drums is currently invite-only, but producers can get instant access using the link below. You can follow the plugin's development by joining the Audia Labs Discord.
For a limited time only, you can get a 45% OFF discount on Emergent Drums using the code BLACKFRIDAYDRUMS. Redeeming the code at checkout drops the price down to $80.
Emergent Drums is a unique take on a drum synthesizer and seems like a logical evolution of concepts introduced in products like XLN Audio's XO or Algonaut's Atlas 2. XO and Atlas 2 both use AI to make creating unique kits easy but rely on the user to have their own selection of samples to get to work.
Emergent Drums is available for Windows in VST3 format and macOS in VST3 and AU formats.
Get the deal: Emergent Drums (55% OFF with coupon code BLACKFRIDAYDRUMS)
More:
---
↑↑↑ 上方链接直接到达 ↑↑↑
资讯出处:Emergent Drums AI Drum Plugin Is 45% OFF For A Limited Time - Bedroom Producers Blog