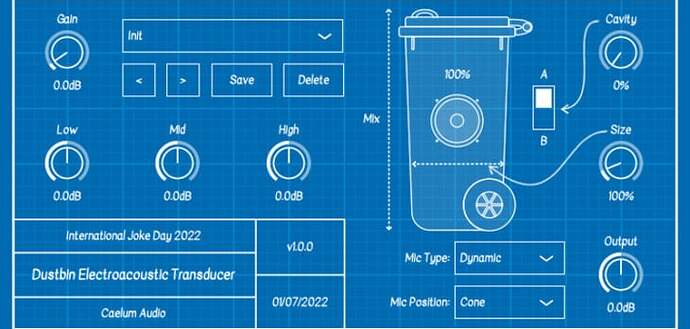 Plugin Boutique offers the Dustbin plugin by Caelum Audio as a FREE download until December 5th, 2022.
Have you always wanted your music to sound like it was made inside a trashcan, aka a garbage bin? Well, now you can make it sound exactly the way you like it by dumping Caelum Audio's Dustbin plugin into your workflow.
Beyond questions like why anyone would want that and why anyone would want to make a plugin like Dustbin lies the fact that this plugin is free to download till the 5th of December. Also important to note is that Dustbin was created on International Joke Day. So that does explain the initial premise of it a little.
But what exactly does Dustbin do?
It was created by recording impulse responses of sounds made inside a bin. Multiple mic positions are available within the plugin to make it sound as trashy as you like.
The interface is simple and designed like a blueprint. You have the outline of the bin, wheel and all, along with basic controls. It has a 3-band EQ along with controls for mic type, position, size of the bin, and placement within the cavity. Everything thing you need for putting some junk in your funk. Yes, the puns come with the territory.
Jokes aside, what would you use it for? Well, it's a lot like any reverb/amp module that would create a cabinet amp type sound for any audio source. It could be a fun diversion within your arrangement to make it feel like something just changed. And the ability to switch various settings means you can play around with it and make it a little dynamic using automation.
Apart from that, you can look at it like it's a quirky audio designer toy, which it totally is. It supports the latest Windows and macOS versions along with the latest chips from Apple. There are several trashcan-related jokes in there, but we'll leave them for you to dive into and dig up.
Get it free on Plugin Boutique. Offer valid till the 5th of December.
Check out our Black Friday Plugin Deals page for more discounts and freebies.
Dustbin is available for Windows 7 or higher (VST3 and AAX) and macOS 10.11 or higher (AU, VST3, and AAX).
Download:
Caelum Audio Dustbin (FREE until December 5th, 2022)
More:
---
↑↑↑ 上方链接直接到达 ↑↑↑
资讯出处:Dustbin By Caelum Audio Is FREE Until December 5th - Bedroom Producers Blog