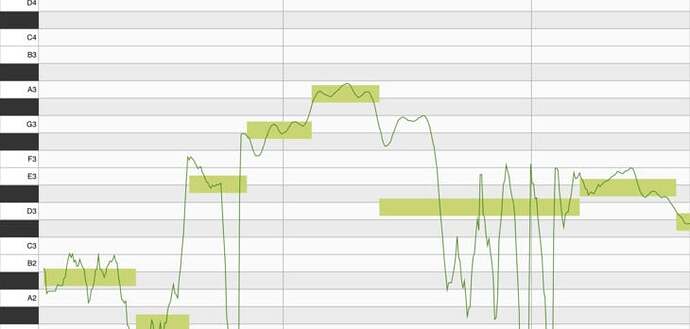 Autumn Rock Software Development releases MusicPutty, a freeware note-based vocal pitch editor app for iOS.
The aptly named MusicPutty app puts the power of elastic vocal pitch editing in your pocket.
A long, long time ago, when iOS was just a twinkle in Steve Jobs's eye, the world received the gift of Melodyne, which does the same thing but with complex, multilayered audio and costs a pretty penny too. MusicPutty uses the same principles on vocal recordings and is totally free, straightforward, and much easier to use.
With MusicPutty, the pitching editing is very similar to the piano roll used in all the commonly used industry DAWs. If you are not familiar with the system, just look at the images, and you will know exactly what we mean. It is like looking at a piano but sideways, allowing you to scroll up and down through the octaves.
Apart from the fact that you can edit individual notes of any single-pitch recording, such as a flute or a voice, there is also a harmony option. You can copy-paste notes to create interesting harmonies and perhaps even a little bit of a choir effect. We would certainly use it for creating multiple versions of the same recording and layering them in a DAW. But the harmony can be done inside the app itself. Plus, you can change the melody completely and make something new out of it.
The recording has to be done through the app itself, so that's a bit of a limitation. However, given the high quality of the iPhone's built-in mic and the availability of great Bluetooth and plugged-in mics for iOS devices, this could be a game changer for singers and producers using just their phones.
For more pitch correction tools, check out our article about free Autotune plugins.
The app runs on iOS and macOS devices. Check it out on the App Store.
Download:
More:
---
↑↑↑ 上方链接直接到达 ↑↑↑
资讯出处:MusicPutty Is A FREE Vocal Pitch Editing App For iOS - Bedroom Producers Blog