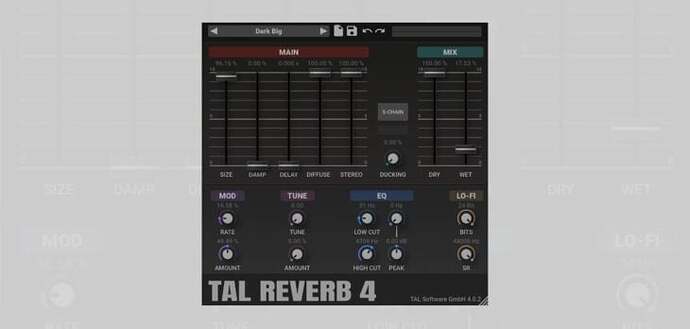 TAL Software has just updated TAL-Reverb-4, a freeware plate reverb plugin boasting vintage 80s-style sonic characteristics.
Multiple new features have been included in this TAL-Reverb-4 update, and it presents another interface change to accommodate.
TAL-Reverb-4 has long been a favorite for those seeking a high-quality freeware reverb, and the latest update brings features comparable to some paid reverbs.
First up is the improved reverb quality, which already sounded excellent. It sounds a little bit cleaner overall now, provided you aren't touching the modulation or sample rate controls.
Previous iterations lacked the tune control, which adds a pitch shifter to the reverb tail. In practice, this creates an effect like a shimmer. Even at the maximum percentage, it remained just part of the reverb, not overwhelming the signal with a high wet/dry ratio on an insert. It creates a lush spaciness, adding intrigue and a little added depth to your sound source.
A dampener has been included as well, having its own dedicated slider on the main panel. This helps for ruling in out-of-control resonances on the reverb's decay.
The delay, modulation, and EQ controls are nothing new but do provide a handy means of shaping the reverb. Ducking was also added with this latest update, allowing producers to sidechain the reverb to their original sound sources. This is super handy for adding ambiance or space to vocals, leads, and other prominent elements.
A component like their paid resampler TAL-DAC is also present, allowing for quick setting of the bit depth and sample rate of the reverb's out. This can get quite dirty and recalls grainy cheap digital reverbs.
TAL Software has continued to provide extended functionality for their freeware, with a recent update to TAL-Filter adding a whole slew of new features as well.
TAL-Reverb-4 remains a sterling reverb, and this latest update adds even more functionality to make it a top-shelf choice.
TAL-Reverb-4 is available for free, requiring no registration of any sort. It is available in VST2, VST3, AAX, and CLAP for Windows computers. Mac users aren't left out either, with the available formats being VST2, VST3, AAX, AU, and CLAP.
Download:
More:
---
↑↑↑ 上方链接直接到达 ↑↑↑
资讯出处:TAL Software Updates FREE TAL-Reverb-4 Reverb Plugin - Bedroom Producers Blog