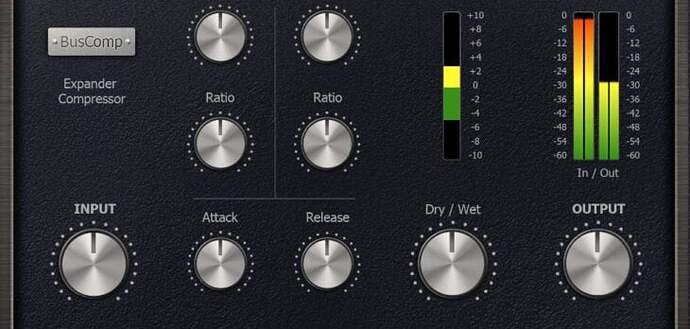 Borealis Audio offers the BusComp plugin as a FREE download for a limited time.
There is never a shortage of compressors on the plugin market, but free ones are always a welcome surprise. Borealis Audio has made their mix bus dynamics processor, BusComp, free for a limited time.
BusComp's layout isn't much of a surprise for folks accustomed to compressors. The inclusion of an expander, especially for bus work, is an inspired choice. Operation is uniform with the expander and compressor sections of the plugin working off the same shared attack and release.
The expander sections ratio selection works as an inverse of the compressor's ratio, and it can help add some needed punch or energy to material with a lack of liveliness. During testing, the expander functioned as intended, being able to dial in a separate threshold from the compressor is an absolute benefit.
Compression in this isn't extraordinary or game-changing compared to most of the other dynamics plugins on the market. BusComp is functional, and it does work well for its intended use case. The compressor is fast enough for bus work, and the inclusion of a sidechain high-pass filter and knee controls allows for a little gentler fine-tuning.
Metering is easily read on the interface, with yellow signifying the amount of expansion and green signifying the amount of compression affecting the signal.
As a whole, BusComp is a well-designed but typical take on bus compressors the world over. The inclusion of an expander makes for some inspired choices for things like drum processing, but it might not be suited for the stereo bus or post-production work.
Downloading BusComp is relatively easy, requiring you just to add the item to your cart and input your checkout information and email at checkout. The download and installation are equally simple, with it being dragged and dropped to your intended VST3 or AU directory.
BusComp is compatible with Windows and macOS computers. Windows, at the time of this writing, only supports VST3, and macOS has compatibility with VST3 and AU.
The free giveaway for BusComp expires on November 30th, 2022.
Download:
BusComp (FREE until November 30th)
More:
---
↑↑↑ 上方链接直接到达 ↑↑↑
资讯出处:BusComp By Borealis Audio Is FREE For A Limited Time - Bedroom Producers Blog