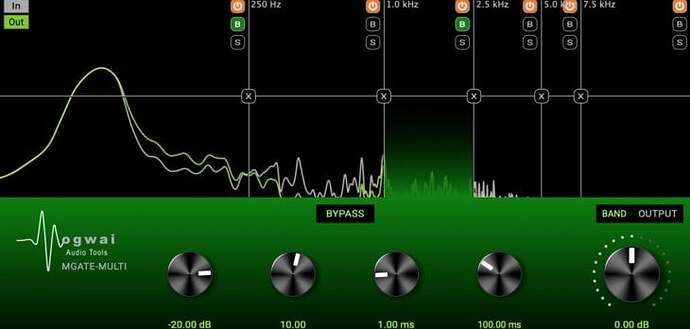 Mogwai Audio Tools offer the MGate-Multi ($9.99 value) multiband gate plugin as a FREE download for a limited time.
MGate-Multi typically costs $9.99 on the Mogwai Audio Tools website, but it's currently available as a freebie. We covered a similar promotion last year, so read our previous MGate-Multi article for more info about the plugin.
Multiband gate processors are one of the secret weapons of music production. They are often the reason why some producers always seem to get away with creating crazy soundscapes and still achieve a clean mix. Gates themselves are pretty handy to have when you want to tighten up a sound that you otherwise have no control over. You can trim out the release and make it sit better in the mix.
Multiband gates go one step beyond. These can be used to isolate specific frequency bands and use a customized gate just for those areas of your sound. This opens up a whole new range of possibilities for sculpting your samples to perfection. This is why these are loved by veteran producers who will use them to get unruly samples to sit tight and light in the mix.
New producers will often overlook the importance of a gate plugin mainly because it is not always talked about it. They might not even know that it exists. It is that taken-for-granted, bread-and-butter tool that always gets ignored, but its presence is always a blessing. So if you have no idea what a multiband gate is, now is a good time to get your hands on this free plugin and learn.
Normally, a good multiband gate would be fairly expensive, but the good folks at Mogwai Audio have created one that retails for just $10. The better news is that it is currently free for a limited time.
MGate-Multi has a simple interface and just the essential controls to get the job done. The learning curve is more about understanding how to use it correctly to create that clean sound.
MGate-Multi is available as VST3/AU and AAX plugins for macOS and Windows (64-bit only).
Download:
MGate-Multi (FREE for a limited time)
More:
---
↑↑↑ 上方链接直接到达 ↑↑↑
资讯出处:MGate-Multi Plugin Is FREE (Again) For A Limited Time - Bedroom Producers Blog