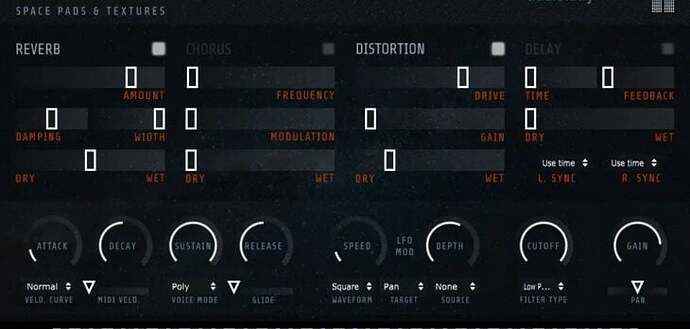 Audiolatry releases Cosmic Lite, a freeware pad synthesizer in VST and AU plugin formats for Windows and macOS.
Black Friday sales are in full swing, and there are a good many freebies to grab. Audiolatry has joined the fray and is offering up a light version of their space pad synthesizer, Cosmic.
Cosmic Lite is relatively spartan, but it does offer up eight pad presets for producers to integrate into their own productions. The full version of Cosmic is also on sale for $5, featuring forty-one pad presets in total.
Cosmic and Cosmic Lite are both geared toward the sounds of sci-fi, making them great for scoring purposes. Despite its limited sound palette, it does have a fair bit of control over the sounds themselves.
While users can't select their own sound sources or waveforms inside of the presets, they can adjust the filter and envelope. Further sound shaping comes about from the effects with Cosmic Lite featuring reverb, delay, chorus, distortion, and pan controls.
For those looking for a deep sound design experience, you might want to look elsewhere, but the presets are varied. The effects work well with the presets as well, perhaps not replacing preferred effects, but adding some much-needed ambiance and motion to the sounds.
Also available is a simple LFO with controls for speed and depth. The LFO can be routed to various targets and can receive further modulation from specifying a source. While it would've been nice to have more sources of modulation, Cosmic Lite isn't intended to be a sound design sort of instrument.
The filter and envelope are also simple affairs, with there being a single filter to choose from and the envelope affecting the amplitude instead of doubling as a modulation source. This being a simpler instrument intended for a single-use case makes it not so big of a deal, but it would be nice to have even more sources of motion for the pads.
Cosmic Lite is available for free using the coupon code FREE at Audiolatry's official Gumroad page. Setup is painless, consisting of a simple drag and drop of the plugin to your preferred plugin folder.
Windows computers can use the VST2 and VST3 plugin formats, and Mac users can use VST2, VST3, and AU.
Download:
More:
---
↑↑↑ 上方链接直接到达 ↑↑↑
资讯出处:Cosmic Lite Is A FREE Pad Synthesizer Plugin By Audiolatry - Bedroom Producers Blog