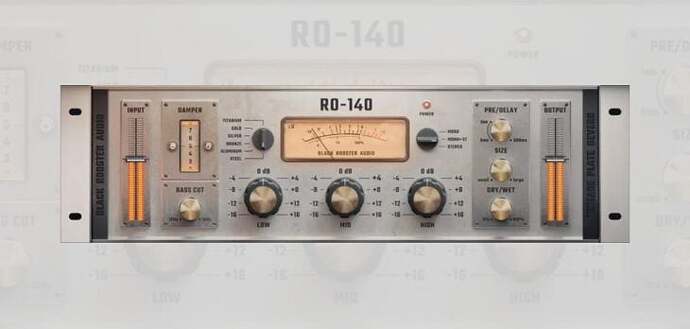 Black Rooster Audio is reducing the price of its RO-140 vintage plate reverb plugin. The 80% discount is part of their Black Friday sale on Audio Plugin Deals and expires in less than 24 hours.
RO-140 is modeled after EMT 140, a classic plate reverb made in the 1960s. This reverb can be heard across a tonne of iconic 60s recordings, including The Beatles and The Stones. Black Rooster Audio's recreation captures this vintage sound, combining an authentic plate sound with modern features.
This reverb has a good deal of control for engineers who will want to sculpt their ideal reverb. This includes a receptive 3-band EQ, bass cut, pre-delays room size, and a dry/wet mixer. The plugin also features dampening capabilities and a mono-to-stereo converter. One unique control is the choice to select plate size and material, giving you different reverb textures, from metallic sounds to more warm and wooden sounding reverbs.
"The RO-140 includes six physically modeled plate materials – gold, silver, steel, aluminum, bronze, and titanium – each of which has an adjustable size through its dynamic plate size controller, allowing for maximum customizability."
RO-140 also includes adjustable gain-staging and both input and output stages – this allows for some interesting 'overloading' capabilities of the plugin, for some organic-sounding saturation.
Overall, RO-140 sounds great. The plates sound authentic and vintage, and the modern control features keep them relevant for contemporary production.
RO-140 is available in VST/VST3 for Windows and VST/VST3 & AU for macOS. The 80% discount is part of the Black Friday sale on Audio Plugin Deals.
Black Rooster Audio offers more discounts in its online store. All plugins are discounted down to $29, and you can get the ALL Bundle for only $99. You can get an additional 10% off with the coupon code EXTRA10.
And if you'd like a taste of Black Rooster Audio's vintage plate reverb for free, check out the recently released RO-GOLD plugin.
FULL DISCLOSURE: This article includes affiliate links, and BPB may receive a commission when you make a purchase.
Get the deal: RO-140 (80% OFF)
More:
---
↑↑↑ 上方链接直接到达 ↑↑↑
资讯出处:Get 80% OFF RO-140 Vintage Plate Reverb (24 Hours Left) - Bedroom Producers Blog