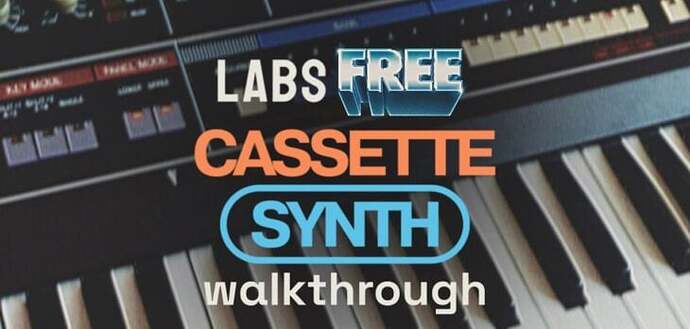 Spitfire Audio releases LABS Cassette Synth, a FREE retro-futuristic synth VST.
Cassette Synth is the latest addition to the stellar collection of free cinematic instruments known as LABS.
The LABS collection features everything from the piano in Phillip Glass' New York home to the Sumburgh Foghorn, and this time, it's highlighted the sound of the Yamaha CS-80.
In true LABS fashion, it's not just a straightforward CS-80 recreation. Instead, they took custom patches from a CS-80 recorded to tape and fed them through an installation of 100 cassette players, re-amped in a renovated church.
The use of interesting, if not unique, locations is one of the things I love about LABS.
Blade Runner comes to mind if I think of a movie score that fits the retro-futuristic description, making the CS-80 perfect for this project. The Yamaha CS-80 was a favorite of Vangelis and played a central role in some of his most iconic works.
Yamaha released the CS-80 in the late 1970s but didn't produce many; some estimates will suggest fewer than 800 exist. Whatever the number is, it's a rare synth indeed, especially if you find one that made it through the past 40+ years relatively unscathed.
Cassette Synth will look familiar to previous LABS users because it runs in the free Spitfire Audio plugin, which has a simple but effective layout.
In this case, clicking on the dial will allow you to adjust the LPF, Reverb, and Noise. The remaining sliders control Volume and Variation, and with a couple of physical sliders on your MIDI controller, these controls make for highly expressive performance.
By design, tape is inconsistent, and adding 100 cassette players to the mix enhances that inconsistency. But, more often than not, we've come to celebrate it rather than avoid it because it sounds more organic.
Spitfire Audio uses the word unstable to describe Cassette Synth, which is very fitting in more ways than one.
If we take media scoring in its most basic form, the music/sound leads the audience's emotions, whether it's a definitive emotion or a state of uncertainty. Composers can approach a scene in many ways, sometimes by adding contrast and others by taking a narrative approach.
Of course, these examples are fairly basic, but the unstable nature of Cassette Synth works well for both approaches. Although inconsistent, it's still lush and beautiful, which means it can do anything from scenes of triumph and hope to false hope where the protagonist doesn't yet realize what's ahead. It can even just sound cool if that's all you need.
Suppose you want to be more direct and mirror the unstable mindset of a character. In that case, it does it without being too transparent (unlike adding a tick-tock when someone is against the clock or a heartbeat in a life or death scene – admittedly, both have worked before, but in most cases, they should remain on the avoid list).
Cassette Synth is another awesome freebie from LABS and a taster of the new Aperture Cassette Symphony, free when you spend £249 during The Black Weekend (which ends very soon!).
The free Spitfire Audio plugin is available in AU, VST2, VST3, and AAX formats for macOS (10.13 – 11 – M1 supported) and Windows 7, 8, 10).
Download:
More:
---
↑↑↑ 上方链接直接到达 ↑↑↑
资讯出处:Spitfire Audio Relases FREE LABS Cassette Synth - Bedroom Producers Blog