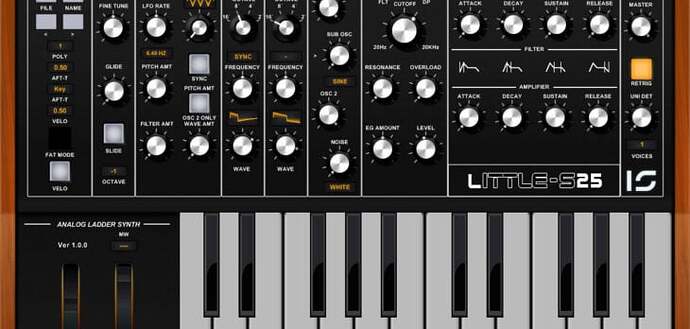 Infected-Sounds has released Littl3-S25, an emulation of the monophonic Moog Subsequent 25, as a free VST plugin for Windows.
Littl3-S25 is monophonic, much like the analog beast it's emulating, and has the features and controls you'd expect.
Sixteen waveforms are present, with users being able to blend two waveforms concurrently with noise and sub-oscillators. The sub-oscillator has selectable waveforms as well, with six being available for selection.
The filter is an emulation of the venerable ladder filter from Moog. It can be swapped between 12dB per octave and 24dB per octave, respectively, and a switch above the filter cutoff allows for it to act as a vowel filter. The formants imparted in this mode aren't adjustable, but they can add some nice bite or character to a sound.
Also of note for the filter is the overload knob, which functions as a feedback knob for those familiar with Moog's general ethos when it comes to constructing a synth. This can help add some grunt and heft to the sound before descending into outright sonic destruction.
Three envelopes are present for the filter, pitch, and amp, respectively. Four LFOs are also present, which have variable waveforms and adjustable frequency.
A unique unison mode is present, providing up to eight voices of stacked oscillators per voice. Seven effects are present, allowing for sonic shaping beyond just the synthesis engine.
Littl3-S25 is free but does require producers to go through the checkout process to obtain a license. Without this, the plugin will emit white noise for two seconds every minute it's open in the DAW. The license is thankfully free, and registration is painless.
Installation for Littl3-S25 is also relatively easy, just being a drag-and-drop affair into your desired plugin folder.
Littl3-S25 is Windows only, supporting VST2 and VST3. There has been no announcement or confirmation of support for Mac users.
IMPORTANT: The download is a direct download, but you'll need to complete the checkout process to get the license file required to "unlock" the software. Also, please notify us instantly if you notice any pricing changes on the Littl3-S25 product page.
Download:
More:
---
↑↑↑ 上方链接直接到达 ↑↑↑
资讯出处:Infected-Sounds Release FREE Littl3-S25 Virtual Synth - Bedroom Producers Blog