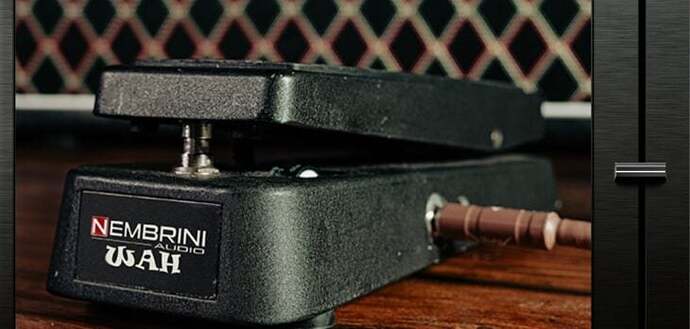 Nembrini Audio releases Wah Pedal, a FREE classic guitar effect for macOS, iOS, and Windows.
Nembrini Audio offers a range of guitar-based plugins, including multiple freebies like the Klon Minotaur and Black Distortion.
Nembrini Audio clearly has a passion for recreating iconic guitar sounds, and they do it well. With this latest freebie (a Christmas gift!), Nembrini Audio has focused on one of the most iconic guitar sounds of all time; the Wah Pedal.
Most guitarists have used a Wah pedal at some point, but it's probably fair to say Jimi Hendrix is the one who comes to mind first for many people. The song Voodoo Child (Slight Return) is one the most famous examples of a Wah pedal at work.
As much as I love Jimi Hendrix, I remember buying the Electric Ladyland album and the keyboard player in me being excited about hearing Steve Winwood and Mike Finnigan on organ. To be fair, I wanted to steal their ideas of what to play when in a band with a soaring lead guitarist.
Hendrix isn't the only icon of the Wah pedal; there is Steve Vai, Frank Zappa, Stevie Ray Vaughan, Jerry Cantrell, and many more.
It's not all about soaring Rock solos; the Wah pedal is a mainstay in various genres, including Funk and Soul.
So, if you just want to get your funky groove on, it's perfect; think of Isaac Hayes' theme from Shaft.
Nembrini Audio's recreation was modeled on a classic 60s pedal, which will likely be important to some users, given that there are various re-issues of the original Wah pedal.
You can listen to some demos on the product page that showcase different sources and styles.
I like to see developers who offer paid products continue to put time and effort into freebies, so well done to Nembrini Audio.
Valhalla is another example of a developer that continues to invest in creating freebies. Don't forget to grab the recent update of the awesome Supermassive if you haven't already.
Wah Pedal is available in AU, VST, and AAX formats for macOS, Windows, and iOS.
Download:
More:
---
↑↑↑ 上方链接直接到达 ↑↑↑
资讯出处:Nembrini Audio Releases FREE Wah Pedal Plugin - Bedroom Producers Blog