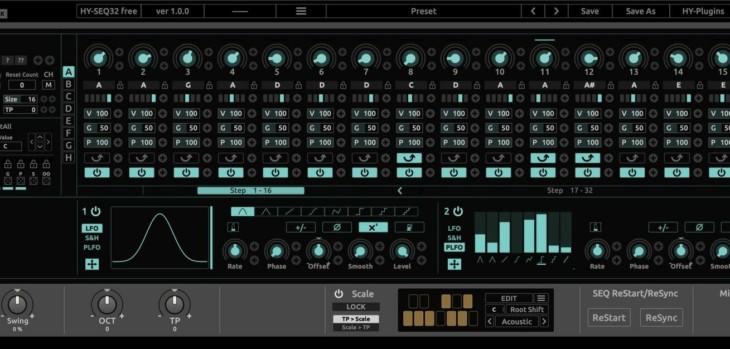 HY Plugins offers freeware and paid versions of its new HY-SEQ32 sequencer plugin for macOS and Windows.
The full version of the plugin offers five modules; Pitch SEQ, Param SEQ, CC SEQ, Oct/Tp SEQ, and CC Rack. The free version is limited to one module, which is the Pitch SEQ.
For anyone who owns the previous HY-SEQ16x3v2, you can update to HY-SEQ32 free of charge.
The free Pitch SEQ is an analog-inspired 16-step sequencer. The free version allows for a single Pitch SEQ unit, while the full version lets you use up to four units simultaneously.
Using a step sequencer is a pretty interesting way of making music. It's something that I use to get me started at times, whether through a plugin or the MPC X.
I find it's often a great place to start because it lets you put ideas together quickly and generate random results that you didn't expect. So, whether you keep the sequence or use it as a template, you should try building a project from a step sequencer if you haven't already.
On opening Pitch SEQ, it can look a little complicated if you are new to step sequencers. Remember, all of these controls and values are per step (repeats).
From top to bottom, each step has the following controls; Pitch (note), Velocity, Gate, Probability, Slur, and on/off. You'll find out fast that the on/off button, as simple as it is, is one of the most effective tools for creating interesting patterns. Hearing every step of a sixteen-note pattern gets boring.
The slur button is also handy; it extends the targetted note till the following step starts. These kinds of functions are about creating texture.
You can create up to eight sequences (A-H) from one instance of Pitch SEQ. It makes it easy to turn sixteen steps into something with more progression. One of the best ways to do this is by using some of the global settings.
Things like playback direction, which can be forward, back, random, and so on, are handy. Also, you can create variations of a sequence just by adjusting the start point, size (length), or octave.
Towards the bottom of the GUI, you can enable the LFO, Sample & Hold engine, and probability LFO. The S&H engine is a nice nod to the plugin's analog inspiration and something not that often seen.
This free demo could be helpful on its own, but it's definitely worth trying if you are considering the full version. The software is available in VST2, VST3, and AUv3 formats.
Download:
HY-SEQ32 (scroll down the page to download the freeware edition)
---
↑↑↑ 上方链接直接到达 ↑↑↑
资讯出处:HY-Plugins Releases HY-SEQ32 Sequencer Plugin - Bedroom Producers Blog