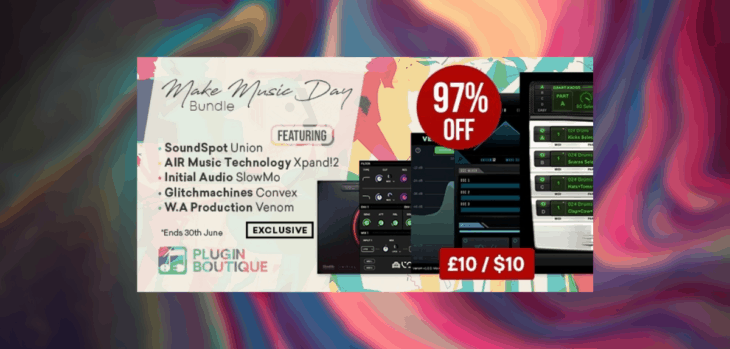 Plugin Boutique offers a bundle of five best-selling plugins for $10 as a special "Make Music Day" offer. Each plugin comes from a different manufacturer, and the offer ends on June 30th.
So, happy Make Music Day!
…is what I should've said on June 21st, but I'm saying it now.
We all love making music, and it's really cool that we now have a day to recognize that.
Moving on from that, there's a ton of goodies to be found in this bundle, so let's not waste any more time and see what Plugin Boutique is offering.
SoundSpot Union
For many, wavetable is the logical end of synthesis – analog, digital, weird – you just throw a wavetable in and then manipulate it as you see fit.
So if you're after that workflow, why not nab SoundSpot's Union?
Union is a full-featured offering that includes 3 oscillators, dedicated LFO, ADSR, MOD ADSR envelopes, stereo wavetable scrubbing, an FX chain, up to 32 voices, and much more! It's not the most feature-rich synth around, but its strength lies in its focused toolkit and easy-to-read interface.
AIR Music Technology Xpand!2
Xpand!2 has been around for a while, but that doesn't mean that it's not still a fantastic resource.
ESSENTIALLY, what AIR Music is offering is a four-part patch builder – you can source up to four different sounds from its pretty sizable library to create something wholly new, with tons of options for polyphony and even several different ways to go monophonic.
The plugin offers wavetable, FM, and sample playback, as well as a bevy of different control options – Xpand!2 is nothing if not a workhorse. Oh, and it has 2500+ presets, so – you do the math.
Initial Audio SlowMo
You have one try to guess what SlowMo does.
If you guessed anything other than slowing down stuff, then I'll need to talk to your parents by the end of the week.
SlowMo does exactly that, but it runs pretty wild with the concept – the plugin can slow down your mixes, instruments, vocals, and effects channels. You can slow all of that down up to 100%, and its oversampling engine means that whatever you end up with will probably still sound great.
Glitchmachines Convex
If you've somehow never heard of Glitchmachines, the name gives it away – they offer some of the most inhumane ways to ruin your sounds, and Convex is a great showcase of that.
The plugin features three effects – a multimode filter, a pitch shifter, and a delay.
The official copy mentions that you can crossfade between two (!) instances of each effect and modulate how they interact. This is so crazy that it already makes me want to call my therapist at 3AM on the weekend.
There's a bunch of demos on YouTube – check them out – if you dAaAAAaaRE
.
WA Production Venom
Last but not least, WA Production's Venom, I got that adrenalin momentum.
Venom is W.A. Production's best-selling spectral processing and spectral shifting plugin. The plugin takes input from an outside source much like a granular synthesizer would – capturing the frequencies from that snippet and allowing you to manipulate it in a variety of different ways.
It's pretty weird, but I grew up listening to a lot of shoegaze in high school, so that's not a bad thing.
So there you have it!
A veritable smorgasbord of interesting and weird stuff to sink your teeth into. So here's a challenge – try making a track with just these. What are you going to come up with? Gothgaze? Goa breakbeat? Noisecorecore?
Whatever it is, all of us here at BPB hope that you never stop having fun doing what you love.
More Make Music Day Deals
But that's not all! Plugin Boutique offers over a dozen Make Music Day special deals. Here's a quick look at some of the available discounts:
Visit the Deals page on Plugin Boutique for more exclusive music software offers.
More info:
Make Music Day Bundle (available until June 30th, 2021)
---
↑↑↑ 上方链接直接到达 ↑↑↑
资讯出处:Celebrate "Make Music Day" With No-Brainer Plugin Deals - Bedroom Producers Blog