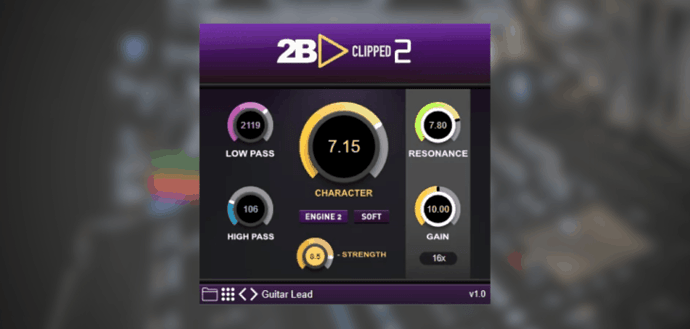 2B Played Music offers the 2B Clipped 2 (€14.99 value) clipper effect in VST and VST3 plugin formats as a FREE download until June 25th, 2021.
2B Clipped 2 is the premium edition of 2B Played Music's freeware 2B Clipped distortion plugin. Compared to the freeware version, 2B Clipped 2 introduces a new clipping engine and multiple distortion modes.
Another useful feature is the 32X oversampling option which ensures that there is no audible aliasing. This is particularly important when the plugin is used for more subtle clipping distortion and signal saturation.
Taking a look at the interface, 2B Clipped 2 offers a pair of resonant filters (high-pass and low-pass), a gain adjustment knob, and the Character knob, which controls the clipping level. The user can select the clipping engine and the algorithm strength.
The plugin also comes with a preset manager, which is handy for saving your favorite settings for later. A small selection of factory presets are included with the plugin.
Like most clippers, 2B Clipped 2 works great as a distortion effect, but you can also use it as a more subtle saturation tool. The ability to select the clipping engine and fine-tune its strength makes the plugins more flexible than some other offerings on the market.
2B Clipped 2 normally costs €14.99 in 2B Played Music's online store, but you can download it for free until June 25th. Enter the coupon code 2BFREE at checkout to download the plugin for free.
It's worth noting that 2B Played Music runs a couple of other deals at the moment.
You can get the 2B Distorted plugin for €3 using the coupon code DISTODEAL at checkout. Another offer is the €1 deal on 2B Delayed Classic, available with the coupon code EURODEAL. Both deals will expire on June 30th.
Download:
2B Clipped 2 (use coupon code 2BFREE at checkout)
---
↑↑↑ 上方链接直接到达 ↑↑↑
资讯出处:2B Clipped 2 By 2B Played Music Is FREE Until June 25th - Bedroom Producers Blog