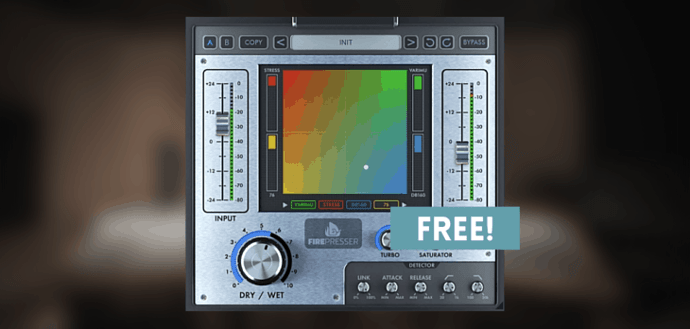 ADSR Sounds offer the FirePresser ($110 value) analog compressor plugin by United Plugins as a FREE add-on with any purchase in June.
FirePresser from United Plugins is a different kind of compressor. It takes the idea that sometimes one compressor isn't enough and groups four classic emulations in one plugin as a solution.
The four emulations are Varimu, Stress, DB160, and 76. They emulate four of the most iconic hardware compressors: the Manley Vari Mu, the Empirical Labs Destresser, the DBX 160, and the UREI 1176.
Using multiple compressors in series is something that many people are slow to catch on to, and I was no different.
As I've said before, I came into music as a student player with no interest in gear, plugins, recording, mixing, etc. That changed quickly the more I was around the studios and engineering students. Initially, with a limited understanding of compression, I'd have thought one track, one compressor, job done.
But, there are different types of compression for a reason; they offer different characteristics. For example, you might want to use one compressor with a fast transient response (like the 1176) to take care of the peaks only and another to tighten everything up.
Each compressor solves different problems without getting in each other's way too much. Some people say it's just better to apply light compression with multiple compressors than heavy compression with one.
At first sight, the FirePresser GUI made me think of something like a Korg Kaossilator with the X/Y pad in the middle.
Starting at the top of the interface, you have the usual preset selection, bypass, and a/B testing. Then, on the left and right, you have large input/output sliders. Along the bottom, you have the Dry/Wet knob, great for parallel compression, Turbo, Saturator, and basic compression controls like Attack and Release in the Detector section.
Each compressor will share the same values, which are set by the controls in the Detector section. The controls are straightforward; there are some useful filters, and the Saturator adds analog-style saturation.
I'd give special mention to Turbo, which intensifies the compression effect by increasing the input gain and overall compression level.
It's the Rainbow Pad that makes FirePresser what it is. The simple drag-around approach to blending the four compressors makes FirePresser a very intuitive plugin. You can also arrange the compressors in any order, which is hugely important depending on your desired results.
For me, FirePresser might be a time-saver on occasions when I'm tempted to get lazy with compression. It's different; at least, I haven't used a similar plugin, and I'm excited that it's different (and FREE).
FirePresser is available for macOS and Windows in AU, VST, and AAX formats.
More info:
ADSR Sounds / FirePresser (get FirePresser for FREE with any purchase this month)
---
↑↑↑ 上方链接直接到达 ↑↑↑
资讯出处:Get FirePresser For FREE With Any Purchase @ ADSR Sounds - Bedroom Producers Blog