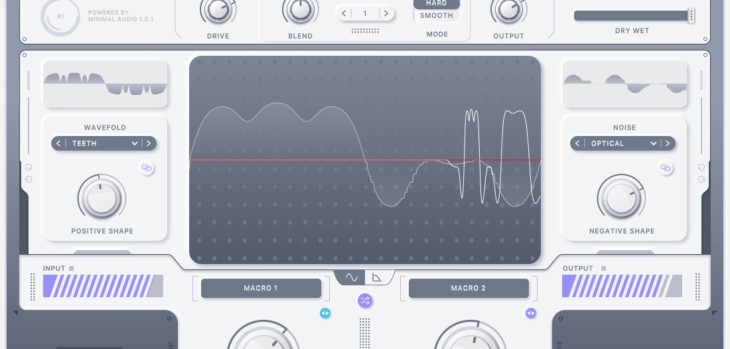 Minimal Audio offers a 40% intro discount on Rift, their flagship distortion plugin.
Right now, you can buy Rift for the introductory price of $75 instead of the usual $129.
Minimal Audio describes Rift as a new type of distortion, a bi-polar processing engine, the world's first bi-polar distortion plugin.
All of that sounds rather impressive, but ultimately, how it sounds and how it feels to use is what matters.
The GUI has two faces; one has the basics, the other has more advanced controls for deeper manipulation.
The Distortion Engine
If we go straight to the heart of the plugin, we have the bi-polar distortion engine with six stages of processing. There are 30 custom algorithms spread across five types: Waveshaping, Wavefolding, Noise generators, Bit reducers, and Same Rate reducers.
You can apply different algorithms/effects to both the positive and negative polarities of the wave cycle, and that's where it starts to get interesting. The Blend knob lets you set the crossover point in the waveform, you can select the blend mode (Smooth/Hard), and you have various routing options, including Stereo and Mid-Side.
Before we even move beyond the distortion engine, we already have something different from the typical distortion plugin, and the keyword is animation. It's not just about adding some dirt to your tone; it's about creating movement and excitement in your sound.
Filters & Modulation
Next up are the Feedback and Filter sections, which offer some pretty interesting tuning options.
Starting with the Feedback section, along with the standard time delay settings, you can tune/lock it to a specific note or key. You can apply distortion directly to the Feedback lines, and by changing the Curve types/rates found in the modulation section (you can draw your own mod shapes too and assign them to any parameter), you create some weird and wonderful results.
There are four modulators, an Envelope Follower, a Morphing LFO, and Curves One/Two.
Despite how intense things can get when introducing distortion to the Feedback lines, the modulators and two Macros provide a surprising level of control for precise sound design.
Sometimes, plugins that can deliver intense or whacky effects can be a little wild. But, to the developer's credit, Rift doesn't feel like it's running away from you even when you push the boundaries.
The Filter section has 24 unique filter types across four categories: Basic, Morph, Peaking, and Harmonic. Using the Morph knob (excluding Basic filters), you can create unusual filter shapes, creating more movement and rhythm in your sound. The Filter Cutoff and Resonance can be tuned to specific notes or keys, just like the Feedback.
What I like about the tuning options in both sections is that it's easy to shift the key up or down a half-step. It's a time-saver, but it also encourages experimentation.
These sections also respond to MIDI input, meaning the Cutoff and tuning will snap to your playing in real-time. Anything that can be controlled/triggered by performance feels more intuitive and provides a far more musical approach.
400+ Presets
Rift comes with over 400 presets, and it's good to go through some to get an idea of what's in store. My absolute favorite so far is Chop N Swell; I used this with some of the dullest keyboard sounds I could find. Load it up, move some Major9 chords, or Minor9 (all fifths voicing à la Herbie Hancock) chords around in half/whole steps, and you've got some slick Neo-Soul.
Up A Notch is another great preset that adds bass and presence to your kick. Another one I like on keys for its minimal detuned effect is Ethereal Tape.
Minimal Audio Rift – The Summary
There's too much going on to mention everything, but here's my take on Rift. It's not a plugin that I'd reach for if I simply wanted to add a little distortion to an otherwise perfect sound.
Rift is a plugin I'd use if I want to turn something quite basic into something very different. In that sense, it becomes far more about creating and sound design than you'd expect a distortion plugin to be, which seems to be the point.
Another fact worth pointing out is that Minimal Audio is currently working on feature updates. They are planning to implement improved curve sequencer randomization, enhanced pitch snapping features, and more.
Rift is available for macOS and Windows in 64-bit AU, VST, and VST3 formats.
More info:
Minimal Audio Rift (40% early-adopters discount)
---
↑↑↑ 上方链接直接到达 ↑↑↑
资讯出处:Minimal Audio Rift (40% OFF Intro Discount) - Bedroom Producers Blog