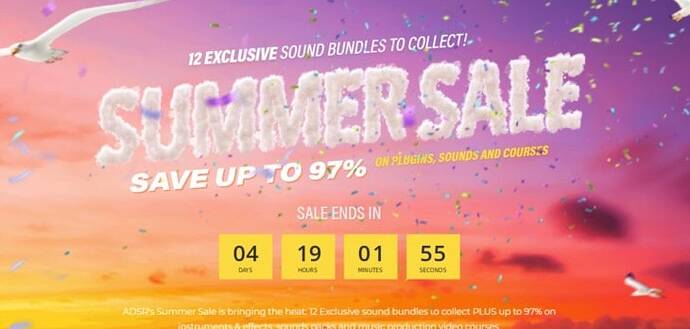 ADSR Sounds launched the ADSR Summer Sale 2021, offering up to 97% OFF in discounts on music software and soundware.
ADSR Summer Sale 2021 features hundreds of audio plugins, music production courses, sounds, and subscription offers. The sale ends on July 12th, 2021.
It's also worth noting that you will receive a free copy of Kilohearts Bitcrush ($19 value) with any purchase at ADSR Sounds by the end of this month.
So, let's take a look at some of the best deals that are currently available at ADSR Sounds.
ADSR Summer Bundles
There are twelve soundware bundles to choose from, covering Serum presets, construction kits, MIDI presets, drum loops, and more. All twelve bundles are priced at $20.
ADSR – Serum & Cthulhu Toolkit (93% OFF) features 3750+ files, including Xfer Serum and Xfer Cthulhu presets, drum loops, construction kits, and more. The content would normally cost $268.96 but it's currently on sale for $20.
Black Octopus – Dubstep Toolbox (95% OFF) is a dubstep sound bundle by Black Octopus Sound. It comes with over 4,500 dubstep and EDM loops, presets, and MIDI files, covering over 4.5 GB of royalty-free content.
Visit the ADSR Summer Bundles page to see the other offers.
Audio Plugins
There are literally hundreds of VST plugins on sale right now, so here's a quick look at just a few interesting deals.
80% OFF Reverse by Initial Audio – normally priced at $49.00, currently going for $9.99. Reverses audio tracks in real-time, makes it easy to rewind vocals and instruments with automation.
87% OFF Creative FX Collection Plus by Air Music Tech – The $149.99 bundle is currently priced at $19.99. Contains twenty best-selling audio effects from Air Music Tech, including AIR Spectral, AIR VintageFilter, AIR Tube Drive, and more.
42% OFF Freakshow Industries – Some of the weirdest and coolest audio destruction plugins available right now.
51% OFF CA2600 by Cherry Audio – Emulates the legendary ARP 2600 hardware synthesizer. Includes over 300 presets.
43% OFF Smooth Operator by BABY Audio – Fine-tune the tonal balance of your mix with a touch of equalization, spectral compression, and resonance suppression. Read our Smooth Operator review for more info.
50% OFF Groovemate One by UJAM – A simple utility for adding percussion to your tracks. Easy to use, works like a charm.
Visit the ADSR Summer Sale 2021 page for the full list of discounted plugins.
ADSR Summer Sale 2021 – More Deals
ADSR Sounds also offers discounts on music production courses. Visit their Video Courses page for more info.
More info:
ADSR Summer Sale 2021 (offer ends on July 12th, 2021)
---
↑↑↑ 上方链接直接到达 ↑↑↑
资讯出处:ADSR Summer Sale 2021 - Up To 97% OFF! - Bedroom Producers Blog