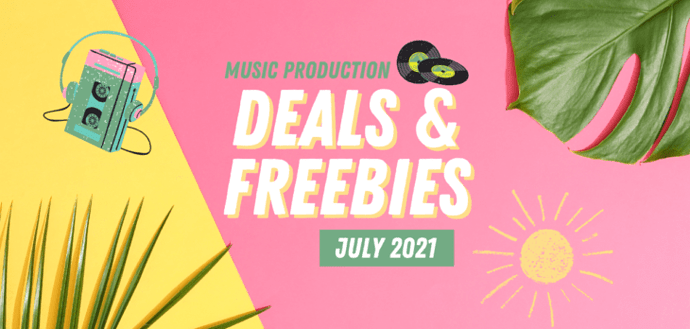 It's July and this is turning out to be one of the hottest summers ever in our part of the world. We don't mind it, though. Summertime rocks! Hot deals on music production software also rock, so here's a roundup of the best discounts and freebies for July 2021.
We organized the article into three categories: Software Deals, Soundware Deals, and Freebies. The hottest deals are highlighted in red and our favorite deals are highlighted in yellow. The coupon codes (in case you need to redeem them at checkout) are bold.
As always, we count on you, dear BPB readers, to share your favorite deals and freebies in the comments section below. The best suggestions will be added to the article.
Software Deals
EXCLUSIVE! Yum Audio offers a 20% OFF discount to all BPB readers. Use the coupon codeYUMBPB-20OFF at checkout to apply the discount to your order.
EXCLUSIVE! UrsaDSP offers a 25% OFF discount on Boost to all BPB readers. Use the coupon codeursa-bpb-2021 at checkout to get the deal.
Plugin Boutique is back with another fresh batch of software deals. Get a FREE copy of theiZotope PhoenixVerb plugin with your purchase.
ADSR Sounds launched theADSR Summer Sale 2021 with a range of audio plugin deals. You will get a free copy ofKilohearts Bitcrush with any purchase this month.
VSTBuzz offers a couple of software deals this month:
PluginFox runs several noteworthy sales in July:
Audio Plugin Deals has a few music software discounts happening right now:
FAVORITE! Tritik offers their new plugin Flaw for a 19€ intro price until July 31st, 2o21.
Black Rooster Audio launched the Summer Sale 2021 with a flat €25 price for each plugin and a €55 offer on the Triple Heat Bundle.
UJAM launched the Summer Madness sale with a 50% OFF discount on all products and three FREE months of the Plugin Alliance MEGA Bundle Monthly Plan ($24.99/month) with every purchase in July!
Synapse Audio Software launched the summer sale, offering discounts on their best-selling plugins (The Legend and Dune 3) until July 18th. Thanks to BPB reader Christian H. for the info about this sale.
Soundware Deals
EXCLUSIVE!****Free To Use Sounds offer 425 royalty-free sound libraries for just $19 to all BPB readers. Use the coupon codebedroomproducer to get the deal.
Plugin Boutique offers a range of deals on Kontakt libraries:
ADSR Sounds offer some no-brainer discounts on soundware bundles this month:
VSTBuzz has a couple of no-brainer soundware deals going on right now:
Audio Plugin Deals is back once again with a bunch of soundware deals:
SoundGhost is a new sound content platform releasing sample packs, synth presets, and Kontakt instruments. They're running a 50% OFF launch sale until July 18th.
Lamprey launched the Mid-Year Sale with a 50% OFF discount on all products, a $50 offer on the Designer Bundle ($140 value), and four FREE sound libraries.
Freebies
This article will be updated daily with new deals and freebies. You're welcome to suggest your favorite discounts and freebie offers in the comments section below.
Enjoy the summer and thanks for reading Bedroom Producers Blog!

---
↑↑↑ 上方链接直接到达 ↑↑↑
资讯出处:July 2021 Deals & Freebies For Music Producers - Bedroom Producers Blog