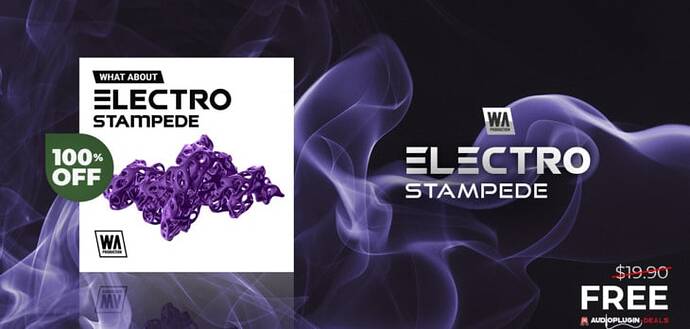 W.A. Production ara offering their Electro Stampede sound library ($19.90 value) for FREE over at Audio Plugin Deals for a limited time.
Prolific sound library label W.A. Production has this series called "What About," where they offer a ton of sounds in a given genre for a pretty competitive price.
This one, What About Electro Stampede, is currently still free for a few more days over at AudioPluginDeals, and it's quite worth the nab.
If you're not convinced, here's exactly what you'll get:
5 Construction Kits (+ MIDI & Presets)
25 Presets for Serum
25 Presets for Sylenth1
45 Melody Loops (+ MIDI)
50 Synth Shots
30 Percussion Loops
15 Kicks
10 Claps
9 Percussion
15 Cymbals
23 FX
Still not convinced? Here's an idea of what that sounds like.
Electro Stampede is classic EDM in a lot of ways but ramped up to 12. It's so high-energy, it feels like it's going to spin out of control. It's also dark and atmospheric enough at times that it easily starts moving into industrial territory.
W.A. Production claims that this pack was inspired by artists by Knife Party, and I believe it.
All this energy means that it sounds a bit more cinematic, like the kind of music you'd hear in a club in a movie or as background for an ad – as opposed to something you'd hear in an actual club.
I could easily hear some of this stuff played during a John Wick-esque shootout or in a cyberpunk-type video game.
However, that's just the construction kits – all the synth sounds are just right, and the drums are immediately recognizable as being EDM-y and quite modern.
Here's more info about the Electro Stampede collection:
"Electro Stampede by W.A. Production is a massive array of the finest Electro sounds, now $0.00 for a Limited Time! These samples are guaranteed to sound amazing whether you are at home, in the car, at the club, or in any live situation.
Included in the pack are 5 Construction Kits. Construction Kits are perfect for expanding creativity, for those who need to create a mix, like yesterday, and those who need to know how to make EDM. The content in this pack will drive your creativity through the roof and bring your next projects to a whole new level."
If you're looking for a way to expand your palette with curated sounds, you can't go wrong with this – and it's free! And even if you don't have Serum or Sylenth1, the drum sounds are worth the effort of downloading this alone.
You can get it over at AudioPluginDeals' website; the deal is available until July 16th.
More info:
Electro Stampede (FREE @ AudioPluginDeals, compatible with Windows and macOS as a 2GB download)
---
↑↑↑ 上方链接直接到达 ↑↑↑
资讯出处:Electro Stampede Is FREE @ Audio Plugin Deals (3 Days Left) - Bedroom Producers Blog