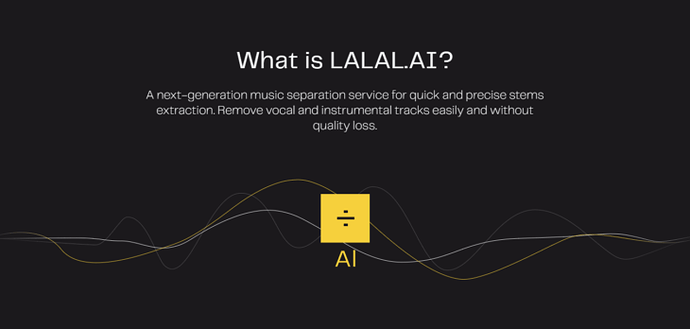 LALAL.AI makes high-quality vocal extraction and audio splitting easy with industry-leading AI technology.
Whether you want to extract vocals or create an instrumental, audio splitting has been a thorn in the side of many musicians for years.
There are quite a few methods of vocal extraction, some more convoluted than others. For many, it started with something like Audacity, utilizing phase invert techniques or multiple EQs in Logic. Audacity now has a Vocal Isolation tool that makes the process easier, albeit still somewhat crude.
Spending some cash on something like iZotope's RX 8 (which I love) with its Music Rebalance function still doesn't guarantee immaculate vocal extraction.
LALAL.AI's AI-Based Vocal Extraction Solution
LALAL.AI tackles the problem using machine-learning and AI technology. Compared to similar services, it seems to do a more sophisticated and precise job.
I tested LALAL.AI with a few sources and got varied results. I tried clean acoustic guitar with vocals, heavily processed tracks, and tracks with lots of backing vocals.
The machine-learning algorithm did far better with tracks that had less going on. With a more complex source, the results are a bit muddier.
That might not sound like a glowing endorsement, but it's a tricky issue that doesn't yet have a perfect solution. However, what I believe LALAL.AI offers is a higher standard than other similar services.
While perfection might not be there yet, the results you get will be perfectly usable for many applications.
I also believe that the team behind this new service is on a mission to improve constantly, and I think we will continue to see better and better results. So, in terms of improvement in quality, speed, and ease of use, I see LALAL.AI as a step forward.
BPB editor Tomislav also tested LALAL.AI, and these are his impressions:
"Having been underwhelmed by various vocal extraction tools and techniques in the past, I was pleasantly surprised by what LALAL.AI has to offer.
I tested it on three different mixed songs, and the extracted vocal was perfectly usable in all three cases. The quality deteriorated on tracks with more reverb and other effects applied to the vocal, but this is expected.
From my experience, the extracted vocals are well-suited for use in a remix or an edit of a track. However, if you're pulling the lead vocal from a song that doesn't use a lot of reverb, the result will be even better.
LALAL.AI doesn't precisely provide a clean studio-quality vocal (nor do I believe this will ever be possible with software), but it is miles ahead of any vocal extraction tools I tested in the past.
The whole experience reminded me of those silly scenes in TV shows like CSI where they extract an immaculate voice recording out of some garbage background noise and then use it as proof against a suspect. It sure seemed silly back in the day but not so much anymore."
LALAL.AI Pricing
There are three membership plans, Free, Lite ($10), And Professional ($20 currently, usually $30).
The Free plan limits you to ten minutes of audio and up to three tracks.
Lite allows you to process 90 minutes across ten tracks, and Professional provides 300 minutes and 30 songs.
The other differences when you pay are that you can have larger file sizes (up to 2Gb) and more file types.
All plans allow you to preview the vocal and instrumental tracks before processing the entire song. That way, if you are paying, you aren't wasting your minutes on a bad track.
I think DJs and remixers especially will love LALAL.AI.
More info:
LALAL.AI (online AI-based software platform for vocal extraction)
---
↑↑↑ 上方链接直接到达 ↑↑↑
资讯出处:Extract Vocals For FREE Using LALAL.AI's AI-Based Technology - Bedroom Producers Blog